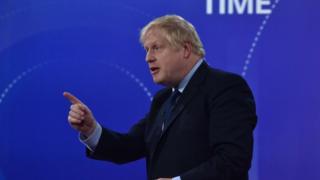 The Conservative Party will launch its general election manifesto later, promising to bring back the Withdrawal Agreement Bill before Christmas to achieve Brexit by the end of January.
Boris Johnson will unveil the document in the West Midlands later.
It will include a headline promise to "get Brexit done" alongside plans for a "triple tax lock" and a pledge to raise the National Insurance threshold.
Mr Johnson has vowed to "unleash the potential" of the UK.
The manifesto includes a promise not to raise income tax, national insurance contributions or VAT.
Key pledges also include free hospital parking for selected patients, relatives and staff, a national pothole-filling programme and an extra £250m a year for childcare support for at least three years.
Speaking ahead of the launch, the prime minister said: "Our One Nation agenda will unite this great country for years to come.
"It's time to turn the page from the dither, delay and division of recent years."
The manifesto pledges a Tory government will bring back the Withdrawal Agreement Bill in Parliament before 25 December – if the party gets a majority.
The aim is for MPs to ratify the prime minister's Brexit deal before the UK is due to leave the EU on 31 January.
The Withdrawal Agreement Bill passed its second reading in October.
Key pledges
The promise of a "triple tax lock" is in addition to Mr Johnson's previous announcement to raise the national insurance contributions threshold to £9,500 in 2020 with an ambition to increase the threshold to £12,500.
Among other measures already announced are pledges for more investment in the NHS, schools and tackling crime.
Other key pledges in the manifesto will include:
Childcare: £250m a year, for at least three years, plus a £250m capital spending boost, for "wraparound" childcare – meaning after school or during holidays
Environment: Spending £6.3bn for environmental upgrades to homes, such as grants for improving boilers and insulation
Roads: £500m a year for four years to fund filling potholes – almost 10 times the amount promised by the party in an announcement in March
Education: A new National Skills Fund of £600m a year for five years. Labour and the Liberal Democrats have announced similar plans
Providing free hospital car parking to protected groups – costing £78m a year in England
A ban on exporting plastic waste to countries outside the Organisation for Economic Co-operation and Development (OECD)
Sticking to their commitment to cut carbon emissions to net zero by 2050
Continuing their work to recruit 20,000 more police officers over the next three years – essentially to replace those lost in cuts by Conservative-led governments since 2010
Groups covered by the Conservatives' hospital parking proposals are people with disabilities, frequent patients, gravely ill people, family of long-stay patients, carers and NHS staff working night shifts.
The party says this will be funded by £78m per year, which it claims is new funding for providing extra parking capacity, or compensation for lost fees.
Boris Johnson's pitch to the voters will feel similar to the pitch he's been making since he became prime minister.
Deliver Brexit – and the country can focus on domestic priorities.
Today we'll see in detail what Mr Johnson's priorities are – but we already know there will be more money for the health service, for extra police and for schools.
There will also be pensioner-friendly policies like keeping the triple lock, winter fuel payments and free bus passes for the elderly.
Add into the mix cash for childcare support, fixing potholes and a skills fund and it's clear the Tories are loosening the purse strings.
The party says the manifesto will be fully costed.
But it's already removed one way of raising extra funds to pay for its pledges – by promising not to raise income tax, National Insurance or VAT under a Conservative government.
Labour wants to make hospital parking free for everyone in England, in line with Wales and Scotland.
The Tories also promise to maintain current policies, such as the triple lock on the UK state pension and continuing the older person's free bus pass.
Writing in the Sunday Times, cabinet minister Michael Gove said the manifesto "outlines clear practical steps towards a brighter future".
"It is unambiguously, unapologetically and unashamedly pro-worker, pro-growth and pro-British values," he wrote.
Pledges for the triple tax lock and higher national insurance contribution threshold "will protect working people's incomes and help with the cost of living", Mr Gove added.
He said delivering Brexit would allow the rest of the manifesto to be implemented and would "enable us to deliver on our investment in more police in the street, hospital building and levelling-up education".
What are the parties promising you?
Here's a concise guide to where the parties stand on key issues like Brexit, education and the NHS.
---
Meanwhile Transport Secretary Grant Shapps announced a Tory government would legislate to make sure rail services continue to operate even when strikes occur.
Writing in the Sunday Telegraph, he said the party would make it obligatory for rail employers and unions to enter into "minimum service agreements".
These would set in advance the number and nature of staff who would remain at work during any strike, he added.
"This will give some level of guarantee to commuters that their trains will continue to run in a safe manner," Mr Shapps wrote.
Mr Shapps criticised a series of strikes planned by rail workers in the run-up to Christmas, saying passengers were being "held to ransom".