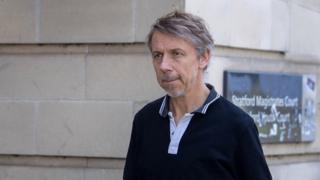 A woman who repeatedly screamed abuse at DJ Gilles Peterson and his family has been found guilty of stalking and harassment.
Sarah Rook, of Surbiton, "persistently" stalked the BBC presenter at his London home and work in February and March, Stratford Magistrates' Court heard.
She denied the charges but when asked if she wanted to give evidence, she told the court it was "probably a waste of an exercise".
She will be sentenced on 22 June.
The court previously heard Rook had turned up outside the DJ's home and hurled abuse at him and his family.
Mr Peterson said she had shouted "very extreme words" at him and his Japanese wife, and accused him of being a "paedophile" and a "rapist".
Rook was seen shouting obscenities outside the 55-year-old's studio, while the DJ also received abusive tweets while presenting his 6 Music show.
"It was a very traumatic situation. I was concerned. It seemed to be so frantic and extreme," he said.
The DJ's wife Atsuko told the court Rook had "screamed" racist abuse at her "repeatedly".
"It was racist words. it was targeted towards me," she said.
The court was shown footage, recorded by the couple's son, of Rook outside the family home shouting and swearing towards the house.
Peter Keyes, a close protection officer, told the court he had seen Ms Rook waiting outside the BBC's Wogan House radio studios on 21 March while he escorted Mr Peterson to his car.
He said the DJ's expression "completely changed to one of concern" and he told him "she's coming, that's her, she's coming".
'Freelance investigation'
Rook had pleaded not guilty to stalking, racially aggravated harassment and an alternative charge of non-aggravated harassment, against the DJ whose surname is Moehrle.
She did not give evidence in court but did provide a written statement which said she was conducting a "freelance investigation" into the history of a jazz club owner linked to author John Steinbeck.
District Judge Cieciora convicted Rook of stalking the DJ, saying the 43-year-old had engaged in a "campaign against Mr Moehrle".
She also found that the harassment against Mrs Moehrle had been racially aggravated, while Rook was also convicted of racially aggravated intentional harassment, alarm or distress against PC Karlene Richards. Rook swore at the officer after her arrest on 16 March.