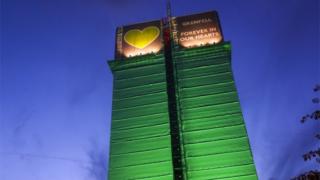 The prime minister and Labour's leader have marked the third anniversary of the Grenfell Tower fire with video messages as part of a virtual service.
Seventy-two people died as a small kitchen fire in the west London tower block turned into the most deadly domestic blaze since World War Two.
Boris Johnson said the country was working to ensure it never happened again.
Sir Keir Starmer pledged to do "everything" to make sure it did not.
The messages will be relayed to a virtual service later as the commemoration moves online due to coronavirus. It will be hosted by the Bishop of Kensington.
In tribute to each person who died, bells of London churches will toll 72 times and green lights will glow from tower block windows.
Mr Johnson said: "We can all remember where we were three years ago today when we saw this tragedy unfolding on our screens and across the London skyline."
He added: "As a nation, we are still dealing with the consequences of what happened and working to make sure it never happens again.
"While those affected by Grenfell are not able to gather in person, all of us in this country are with you in spirit."
Labour has estimated 56,000 people were still living in homes wrapped in the same flammable cladding as Grenfell.
"In the midst of their suffering, the Grenfell community came together to campaign for justice, safe homes and change. Because no one should ever go through the loss and pain they experienced," said Sir Keir.
"But three years on and, unbelievably, tonight people will go to bed in unsafe homes.
"Three years on and there has been little justice or accountability. Three years on their campaign continues.
"I support Grenfell United. We can all learn from their strength and determination."
In a written statement, London Mayor Sadiq Khan said he would be relentless in ensuring the Grenfell community get justice and that Londoners would feel safe in their homes.
"While struggling with their own personal grief and recovery, they have continued to campaign for building safety and are demanding change to keep others safe in their homes."
Conservative MP Theresa May, who was prime minister at the time of the fire, tweeted that Parliament, "must do all we can to help them. Their loved ones must not be forgotten".
'Been left behind'
It comes as many Grenfell Tower victims have said they feel "left behind" by the government.
Karim Mussilhy, whose uncle Hesham Rahman died in the blaze, said "there's not a lot of compliments right now" for the government.
A Parliamentary committee has warned cladding, like that which helped the flames spread, could cost up to £15 billion to remove nationwide.
Mr Mussilhy, vice chairman of support group Grenfell United, said: "It never feels like there's any urgency with the emergency that this country is in with the whole cladding situation."
Joseph John, who escaped the fire by climbing out the window of his second floor flat with his then-partner and child, has said he feels "disgusted" about where victims still find themselves.
"I feel like I've been left behind since Grenfell, I haven't been supported."
A Ministry of Housing, Communities & Local Government spokeswoman said it had set up the Building Safety Programme and testing process to identify all high-rise buildings with aluminium composite material (ACM) cladding and had worked with councils to ensure buildings at risk were made safe.
"We will ensure everyone affected by the Grenfell Tower tragedy continues to receive the support they need with over £158m committed to supporting the community so far," she added.
The Fire Brigades Union said high-rise residents faced a "postcode lottery" concerning how many firefighters would be sent to their building in the event of a blaze.
It said "many brigades would not be able to mobilise anywhere near the scale" that was needed to tackle the Grenfell Tower fire.
Faith leaders will conduct sermons and reflections online throughout Sunday and from 22:30 BST, people in homes across the UK have been asked to shine a bright green light from their screens to show solidarity with the bereaved and survivors.
The public inquiry into the disaster was paused in March because of the pandemic and is due to restart on 6 July.