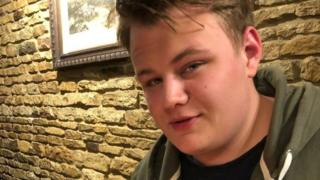 The family at the centre of a row over diplomatic immunity after their son died in a car crash described a meeting with Foreign Secretary Dominic Raab as feeling like a "publicity stunt".
Harry Dunn, 19, died in a crash with a Volvo in Northamptonshire on 27 August.
American diplomat's wife Anne Sacoolas, suspected of driving the other vehicle, later left the UK to return to the US.
Harry's mother Charlotte Charles said she felt "let down" by both the UK and US governments.
Speaking to Sky News, she said: "I can't really see the point as to why we were invited to see Dominic Raab. We are no further forward than where we were this time last week.
"Part of me is feeling like it was just a publicity stunt on the UK Government side to show they are trying to help.
"But, although he is engaging with us, we have no answers. We are really frustrated that we could spend half an hour or more with him and just come out with nothing."
Together with her husband Tim Dunn, she met Mr Raab in the hope he would urge the US to waive Ms Sacoolas' diplomatic immunity.
Mr Dunn said: "I felt extremely let down by the Government today, or by the Foreign and Commonwealth Office.
"I'm deeply, deeply disappointed that they think it's okay to kill a young lad on his bike and they can just walk away."
"I don't think the government or the Commonwealth Office have any clout to do anything."
The Foreign Office has been approached for comment.
Trump invitation
Ms Charles urged Ms Sacoolas to do the "humane thing to do and get on a plane and come back".
Their lawyer Radd Seiger said they were in talks to launch a civil case against Ms Sacoolas and they were "going to Washington soon to help us get that justice for Harry".
He also invited US President Donald Trump to meet the family about the case.
"If meeting with President Trump would help us get a step closer to seek justice for Harry, to get justice for that boy who died that night needlessly, one of the most wonderful kids in our community, if that's what it takes then I will extend an invitation now to President Trump.
"Meet us. Let's have a chat. Nobody wants to litigate."
Prime Minister Boris Johnson has urged the US to reconsider its decision to allow Ms Sacoolas immunity, while Mr Raab had already spoken to the US ambassador and Secretary of State Mike Pompeo.
Northamptonshire's chief constable and its police and crime commissioner have also urged the Americans to waive Ms Sacoolas's diplomatic immunity.
Harry Dunn died after his Kawasaki motorcycle was in a crash with a black Volvo XC90 in Croughton, close to an RAF base.
He was taken to Radcliffe Hospital in Oxford where he died.
Chief Constable Nick Adderley said "based on CCTV evidence", officers knew that "a vehicle alighted from the RAF base at Croughton" and was "on the wrong side of the road".
He said the suspect, Ms Sacoolas, had "engaged fully" following the crash and said "she had no plans to leave the country in the near future".
However, she then left for the United States and has not returned.