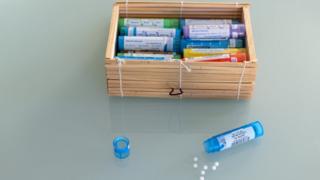 Health bosses have expressed "serious concerns" over the possible re-accreditation of the UK's largest group of registered homeopaths.
In a letter to the Professional Standards Authority, they said it gives "a false impression" to the public that their treatments are "clinically and scientifically established".
Homeopathy should not be recommended to the public, health chiefs say.
NHS England recommended that GPs stop providing it in 2017.
It says there is no good-quality evidence that homeopathy is effective as a treatment for any health condition.
The Society of Homeopaths is the UK's largest group of registered homeopaths. It has been approached by the BBC for comment.
'Fundamentally flawed'
Chief executive Simon Stevens and NHS national medical director Stephen Powis wrote to the Professional Standards Authority, saying: "This is a vital issue at a time when there is a rise of mis-information about vaccines – some of which is apparently promoted by homeopaths – and which poses a significant danger to human health.
"The basis of their practice remains fundamentally flawed," the letter said.
It went on to say that NHS England had issued guidance based on the latest clinical evidence "to ensure that patients are not prescribed items such as homeopathy that could be unsafe, ineffective or where there are more cost-effective alternatives".
NHS England chief executive Simon Stevens added: "Anything that gives homeopathy a veneer of credibility risks chancers being able to con more people into parting with their hard-earned cash in return for bogus treatments which at best do nothing, and at worst can be potentially dangerous.
"Whether touted as a miracle cure or as protection from serious diseases – like so-called homeopathic vaccines – homeopathy is no replacement for rigorously tried and tested medical treatments, delivered or prescribed by properly-qualified professionals, and by stopping people seeking expert help, misinformation and ineffective remedies pose a significant risk to people's health."
The NHS, the Chief Medical Officer and the National Institute for Health and Care Excellence's position is that homeopathic remedies are not scientifically validated, or recommended to treat any health conditions.
The Professional Standards Authority accredits organisations which register health and care practitioners in unregulated occupations.
What is homeopathy?
Homeopathy is a 'treatment' based on the use of highly diluted substances, which practitioners claim can cause the body to heal itself.
It is a complementary or alternative medicine, different from conventional treatments.
It is based on a series of ideas developed in the 1790s by a German doctor called Samuel Hahnemann.
One central principle of homeopathy is that "like cures like" – that a substance that causes certain symptoms can also help to remove those symptoms.
But reports have found that homeopathic remedies perform no better than placebos (dummy treatments).
There is no good-quality evidence that homeopathy is effective as a treatment for any health condition.
Source: NHS UK