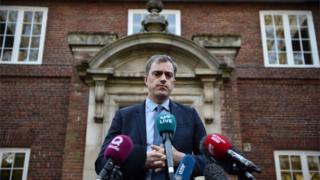 Stormont parties have criticised the secretary of state for not meeting them on Tuesday to discuss the upcoming healthcare strike.
Sinn Féin, the SDLP, Alliance and the UUP all hit out at the decision. The NIO said health is a devolved matter.
About 9,000 nurses are to strike for 12 hours on Wednesday from 08:00 GMT.
The five main Stormont party leaders have sent a letter to Julian Smith, which they said "provides cover" for him to intervene.
The Health and Social Care Board (HSCB) said the strikes pose a "major challenge".
The latest information on strike action and how it might affect patients can be found on the Health and Social Care Board website.
Representatives from the five parties met with with the head of the Northern Ireland Civil Service, David Sterling, and Department of Health Permanent Secretary Richard Pengelly on Tuesday afternoon in a last-minute effort to avert the strike action.
That meeting was unsuccessful.
The parties had hoped they could then meet with Mr Smith, but the Northern Ireland Office said health remained a devolved matter.
Regrettable decision
SDLP deputy leader Nichola Mallon said she is "angry" Mr Smith did not meet the parties.
"On the eve of significant strike action in our health service by healthcare workers who have been left with no other choice, it is unacceptable that the secretary of state chose not to engage with parties this evening.
"What message does that send to healthcare staff?" she asked.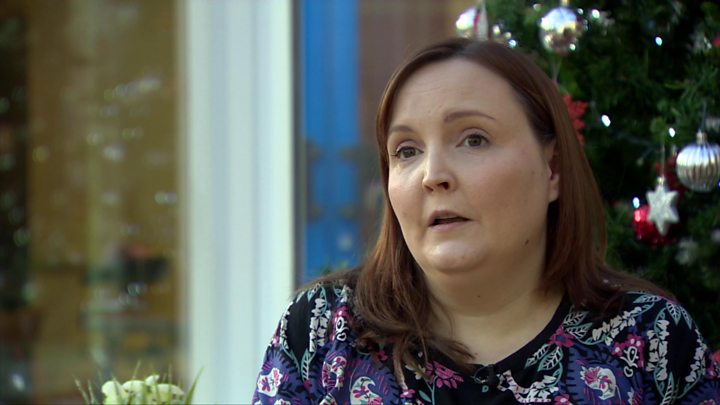 Sinn Féin's Michelle O'Neill said the decision not to meet was "regrettable".
"The pay and staffing issue must not be used as a political football within the talks," she said.
"Party leaders restated there is consensus if the Executive is restored by 13 January that we will adopt a policy to award pay parity."
The letter to Julian Smith, signed by Arlene Foster, Michelle O'Neill, Naomi Long, Colum Eastwood and Steve Aiken, said there was "collective support for the restoration of pay parity".
"In our view this statement, making clear that any health and finance ministers in any future Northern Ireland Executive formed before 13 January 2020 would restore pay parity, provides cover for you as secretary of state to intervene to ensure that pay parity is restored independently of the ongoing talks to restore the Executive," the letter said.
Steve Aiken, leader of the UUP, said: "Here we had today an opportunity for both politicians here and for the secretary of state to do what was right."
Alliance leader Naomi Long said: "It is disappointing that on such an important issue, one that effects people in Northern Ireland directly and could have serious consequences tomorrow, he wasn't willing to actually come into the room and have the conversation with us this evening."
Nurses and other healthcare workers have been taking industrial action for several weeks amid complaints of poor pay and staffing levels.
Paramedics are set to take 24-hour strike action.
A spokesperson for Health and Social Care Board (HSCB) said "major challenges are expected across all health and social care services in Northern Ireland tomorrow".
The HSCB announced that the South Tyrone Hospital Minor Injury Unit (MIU), Mid Ulster MIU, Bangor MIU and Ards MIU will all be closed on Wednesday.
It also advised that if patients or service users have not been contacted about their Trust then they should attend their appointment/ service as normal.
All emergency departments remain open, but "significant pressure" was expected within the departments.
"The priority will be on the treating emergency and life threatening conditions first. Patients with less urgent conditions may have to wait for lengthy periods," said the spokesperson.
Analysis: These are exceptional times
By Marie-Louise Connolly, BBC News NI Health Correspondent
There are just under 2,800 unfilled nursing posts within the health service in Northern Ireland.
The Royal College of Nursing (RCN) estimates that a similar level of unfilled posts exists within nursing homes.
The nursing vacancy rate in NI is within 13%, compared with about 11% in England and about 6% in Scotland.
This means that for every eight nurses who should be working in Northern Ireland, one is missing.
Nurses are demanding better work force planning.
Last year, the local health service spent £52m on agency nurses to fill these gaps in the workforce.
That money, the RCN argues, could be better managed to train and pay health service nurses.
These are exceptional times which require an exceptional intervention.
The RCN says no time is a good time to strike but years of negotiations between various health ministers failed and years of warnings were ignored.
Kevin McAdam from the Unite union said the trade unions were "working hard" to ensure there was necessary staff cover.
"All of the local reps (of the trade unions) have been given authority to ensure that where critical care is required it is delivered," he added.
Anne Speed from Unison said joint meetings were taking place with employers on Tuesday and that it had provided an exemption from striking for staff working in "cancer treatment and children's homes".
The Royal College of Nursing (RCN) said it was working with management to ensure there is enough staff cover in "critical departments".
The heads of all of Northern Ireland's health trusts have stated the current crisis in the service has been "years in the making".
The latest information on strike action and how it might affect patients can be found on the Health and Social Care Board website.