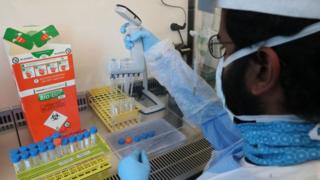 Both the UK and Scottish governments have stressed the importance of mass testing in the battle against coronavirus, with the two governments responsible for different parts of the testing system in Scotland.
But there are some key differences in the approach being taken on either side of the border.
What are the testing targets in the two countries?
The UK government had said it wanted to be carrying 100,000 tests a day by the end of April, but is now widely expected to fall short of that target.
Justice Secretary Robert Buckland told BBC Breakfast on Thursday that the 100,000 target was a "milestone" towards a much bigger testing goal – and insisted that even if it has not yet been met, the government was "well on our way".
There has never been a specific Scottish equivalent for this UK target, with First Minister Nicola Sturgeon saying the aim was for the country to carry out a "proportionate" amount of testing.
She has said she wants the NHS in Scotland to have capacity to carry out 3,500 tests a day by the end of April – which is expected to be exceeded – plus additional testing through commercial and academic partnerships.
But there have been reports that the full NHS testing capacity is not always used.
Ms Sturgeon is expected to give more detail about the number of tests that have been carried out when she gives her daily briefing on Friday – and could also announce some changes to the Scottish system.
It is important to remember that all these tests can only tell if you currently have the virus – and not whether you have had it in the past.
How is testing being carried out in hospitals?
In both Scotland and England, any hospital patients who are suspected of having Covid-19 have been getting tested for the virus since the outbreak began.
The Scottish government recently announced that this would be extended to all patients over the age of 70, who will now be tested when they are admitted to hospital and again every four days during their stay regardless of whether they are displaying any symptoms.
It says that this will help it closely track transmission of the virus in hospitals.
However, all frontline NHS workers in England are eligible for tests – while in Scotland it is only those who are suspected of having the virus.
What about care homes?
The front line in the battle against the virus seems to have largely shifted from hospitals to care homes, which are now thought to account for more than half of all deaths.
As with hospitals, there are some significant differences between the approach in the two countries.
In England, testing is being rolled out to all residents and frontline staff regardless of whether or not they are showing symptoms, with kits now being sent directly to care homes to allow this to be done.
But in Scotland, staff and residents are currently only offered testing if they have symptoms of the virus – although any new residents entering a home are also given a test.
Scottish Care, which represents the independent care sector, says this does not go far enough.
It wants to see a significant ramping-up of testing in care homes, with all staff and residents tested when there has been a Covid-19 case in the facility.
Are all older people with symptoms being tested?
In England, anyone over the age of 65 who is displaying symptoms of the virus is eligible to be tested, regardless of their circumstances.
This is not yet the case in Scotland, where over-65s with symptoms are only tested if they fall under one of the other categories – for example if they are a hospital patient or care home resident.
Key workers and their families
Anyone classed as a key worker in either Scotland or England and their households can now apply to tested to find out whether or not they have the virus.
The aim is to prevent essential workers self-isolating with symptoms similar to Covid-19 but which are not actually caused by the virus.
Workers who are eligible can also book online and choose whether to attend a regional test site, or ask for a home test kit.
But supplies of home testing kits are limited, and demand for testing slots has been extremely high in many areas – leading to some sites running out of slots.
In England, "essential workers" include those working in the military, police, prison service, education and childcare, social work, transport, the food sector, local government, utilities and energy, banking staff, journalists, the funeral industry and religious staff.
The Scottish government has set out its own "priority matrix" for testing of key workers and their families, which divides them into four groups.
The top priority group includes health and social care workers, staff working in residential institutions and essential roles where service resilience is at risk.
Lower priority groups include key staff working in other essential services and industries, as well as those involved in volunteering.
In England, anyone who goes into work because they cannot work from home – for example construction workers, shop workers, delivery drivers and emergency plumbers – can also be tested if they have symptoms.
However, this is not the case in Scotland.
Similarly, anyone in England who has symptoms and lives with anyone who meets any of the criteria for testing is also eligible – while in Scotland they are not.
How do you get tested in Scotland?
Scotland effectively has two testing systems running in parallel – one through the NHS, which is the responsibility of the Scottish government, and the UK government's own testing programme.
People classed in the top priority group – mainly frontline health and care home staff, patients and residents – are generally tested by the NHS through a referral system.
Other key workers can also access NHS tests, but if there is no capacity they can apply for a test under the UK government programme using its booking website.
The UK government operates drive-through testing centres at Glasgow, Edinburgh and Aberdeen Airports and at the Highlands and Islands University Campus in Inverness.
A further site in Perth is due to open this week, with the military also to operate 13 mobile test units in Scotland.
The UK government has also established a "superlab" at Glasgow University – one of three across the UK – to help process the tests.