Today's office spaces are inseparable from the tech that keeps them running. Computers are an integral part of the modern working creative professional's life. But to match that lifestyle, often times desktops don't offer the necessary portability, and regular laptops are just not powerful enough.
The office power workers, creators, architects, and designers are often left wanting more from their computers. To address this growing need, HP has introduced a series of powerful machines under its "Z by HP" lineup. These workstations marry enterprise-level performance with true portability, for the people who push their typical office computer past its breaking point.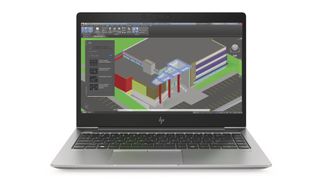 HP ZBook 14U
The HP ZBook 14U is designed with portability in mind. At 17.9mm, it is the thinnest mobile workstation laptop in the world. But don't let its petite form factor fool you, as it can be configured with up to an 8th generation Intel Core i7 processor, 32GB of RAM and 2TB of fast PCIe SSD storage, satisfying the power users. 
Moreover, to satiate the creators who need pro-grade, high-resolution displays, the ZBook 14U comes equipped with the world's first 14-inch screen with 100% Adobe RGB space coverage for industry-leading color accuracy. 
To keep up with the editor's and designer's needs, the HP ZBook 14U comes with pro-level graphics performance for seamless editing and rendering while on the go. 
The workstation is also made closely with the independent software vendors to ensure that the crucial apps work flawlessly while taking maximum advantage of the beefy internals. 
They offer an industrial design that is tested for durability, to ensure that your important data is always intact, even during accidents. 
HP ZBook 15U
For users that want a little more from their mobile workstations, the bigger HP ZBook 15U might be better suited for them, with a 15-inch UHD display with the same high color accuracy, making it one of the best laptops for graphic designing or video editing. The bigger canvas is also very useful for maximizing productivity and improving the user experience.
The HP ZBook 15U makes optimum use of the bigger footprint by offering a full-sized keyboard with numeric keys, which is always appreciated. It brings these additional benefits on top of all the productivity features found on the Zbook 14U.
You can go to this link to own any of these laptops right now.