James Peckham
The Huawei Mate 30 launch event gave us more than just a single smartphone. In fact we got four smartphones, a new smartwatch and even a TV.
It was the Huawei Mate 30 and Mate 30 Pro which were the headline announcements though, with the latter boasting four rear cameras and a curved display.
However, the phones do have one potentially fatal flaw. No Google apps.
That's down to the ongoing feud between the US and China, with the former banning Google from working with Huawei which has resulted in the phone manufacturer being unable to launch new devices with Google's apps on them.
Huawei Mate 30 launch live blog
James Peckham
All times in Central European Summer Time (CEST)
The Huawei Mate 30 launch event has ended
James Peckham
15:36 – That's it – the launch is over. We're now off to try out the phones for the first time… wish us luck.
15:31 – Here we go. Huawei Watch GT starts at €229 (around $250, £200, AU$370) for the 42mm and €249 (roughly $275, £220, AU$405) for the 46mm. That's set to debut in October.
We don't know when the phones will debut in Europe (or even if they will) but Richard Yu confirmed the standard Mate 30 would come in an 8GB version for €799 (converts to about $885, £710, AU$1,300).
The Mate 30 Pro will cost €1099 (about $1,210, £975, AU$1,790) for an 8GB of RAM variant, while the Mate 30 Pro 5G will be more expensive at €1199 (about $1,325, £1,060, AU$1,950). That 5G version comes with 512GB of storage, while the standard Mate 30 Pro comes with 256GB.
The Porsche Design version of the phone is set to cost an eye-watering €2095 (a heart-stopping $2,310, £1,850, AU$3,395) with 12GB of RAM and 512GB of storage.
Image 1 of 4
Image 2 of 4
Image 3 of 4
Image 4 of 4
James Peckham
15:30 – Whether this will be coming to the US or UK remains unclear. It's likely to be a product that begins in China, but Huawei may surprise us and introduce its first TV around the world.
Hopefully we're about to learn more about release dates for all the products announced on stage today.
15:26 – And now we're onto Huawei Vision TV. It comes in 55-inch, 65-inh and 75-inch versions, and all of those versions are 4K. Huawei is particularly proud of its audio technology, which was a little unclear on stage so we're excited to hear in real life.
James Peckham
15:21 – The Watch GT 2 is set to last for two weeks from a single charge, according to Huawei. If you're using it consistently it's sure to be less than that, but considering how well the first watch performed we wouldn't be surprised if this was the case.
It also has a heart rate monitor that works underwater, plus it has stress monitoring tech as well. We're quite glad we're not wearing one of these watches getting stress notifications right now…
James Peckham
15:18 – Huawei Watch GT 2 is confirmed, and it looks like it's a more premium design than before.
There's a 46mm variant that comes with a 1.39-inch HD OLED display. It has an always-on mode too. There's also a 42mm version that doesn't sport a bezel around the outside and is lighter.
Huawei is quickly smashing through this, so for the full details you'll want to read our news story that goes into more detail.
James Peckham
15:15 – There's only one spec variant of the phone and it's 12GB of RAM with 512GB of storage. That likely means this is the most high-spec version of the Mate 30 series, although we've yet to hear what's inside the Mate 30 and Mate 30 Pro.
15:14 – We're now onto the specs of the PD Mate 30 RS that comes in either red or black. There's also a leather strap case that is sold separately… it's not particularly our style choice but it's a way of holding your phone in a more luxurious way than a pop socket.
James Peckham
15:11 – Yep, Becker just referred to it as a "premium leather" so it's unlikely to be that same vegan leather we've heard about for the other handsets.
15:09 – It looks to have a leather back, and it'll be interesting to see if Huawei opts for a vegan leather option of this handset.
15:07 – Yu left the stage for a bit while we watched a video to sum up the entire Mate 30 series… but that's not all. Oh no, there's a Porsche Design phone to come. 
Porsche Design CEO Jan Becker is now saying a bit about how the company is on its fifth-gen device with Huawei. It's called the Porsche Design Huawei Mate 30 RS, which may be the most complicated phone name ever.
15:03 – Yu said there's a next-gen in-display fingerprint scanner in the handset, but it's not entirely clear what that means. It also comes with Face ID technology so you can securely lock your phone.
The in-display fingerprint scanner in the Mate 20 Pro and P30 series was one of the best available, so we have high hopes for the Mate 30 and Mate 30 Pro.
15:00 – There's a new auto rotate mode that seems to monitor what way your face is. That essentially means you can lay down on the sofa and it won't think you're in landscape mode when you're trying to read your Twitter feed.
If it works, this could make procrastination on social media even easier than ever.
James Peckham
14:57 – There's a new always-on display that sports the time, the date and your battery. There are lots of designs for the always-on display, and you can even match it to your Watch GT watch face.
Huawei has also included Dark Mode on the handset, which is a feature within the latest version of Android.
14:56 – We've just seen a video of the phone's interface that didn't show any of Google's services, but that may be because it's aimed at the Chinese market that doesn't have those apps.
14:55 – Just as I say that, Yu has confirmed that the phone will sport EMUI10 that is based on the latest Android 10 software. More to come on this and how the phone will avoid the issue of not sporting Google's apps and services.
James Peckham
14:53 – We're almost an hour into this launch and Huawei has yet to confirm what software is on the Mate 30 and Mate 30 Pro. It's heavily rumored the company will be using its newly launched HarmonyOS.
We expect to hear about this toward the end of the launch, but we have our fingers tightly crossed that it's something Huawei speaks about on stage to clear up the current confusion.
James Peckham
14:51 – There's also a new 4K time-lapse mode on the camera that looks better than ever, but this will involve you having to leave your phone out for hours on end to be able to get some of the beautiful shots Huawei showed us.
14:47 – Huawei is also introduce real-time video bokeh to its camera on the Mate 30 Pro. It's something we've already seen on the Note 10 series, but it'll be interesting to see how Huawei handles it.
14:45 – We've just seen an example of a Hummingbird's wings during the ultra slow-mo mode, and it was very impressive. Definition dropped during the footage, but you could see the wings move clearly.
I'd love to hear what The Slow Mo Guys think of this…
James Peckham
14:42 – The company confirmed there was no extra equipment used in filming the video, which is genuinely quite impressive compared to a lot of other smartphones.
14:40 – Video is the next mention for the Mate 30 Pro. It's the first phone with a "dedicated 40MP Cine camera" that will shoot in 4K at 60 frames per second. It also has 4K HDR+ support as well.
Other features include 7680 frames per second slow-mo, plus there's dual optical image stabilization paired with artificial image stabilization too. 
We've been shown a video of some mountains that looked impressive and similar to something like Planet Earth but I think you'll need a particularly cinematic eye to get shots like these.
James Peckham
14:36 – While we've dug into those press materials looking for UK release date details we've missed a lot of detail about the camera on stage. If you want a clear picture of the camera so far, you may find more information in our Huawei Mate 30 news story.
14:34 – We've just received some press materials from Huawei directly and there's no confirmation on if it'd be coming to the UK. That may be our first official confirmation that Huawei won't be bringing the phone to those in Europe.
We've asked Huawei on whether it plans to bring these two new handsets to other markets out of China and we'll confirm as soon as we hear back.
14:31 – OK, we're onto camera. Bear with us, this is a biggie. There are four elements to the rear, an ultra-wide 16MP f/2.2, a 40MP f/1.8 wide and 8MP f/2.4 telephoto alongside a laser focus too.
That impressive zoom technology we saw debut on the Huawei P30 Pro is also returning as well.
James Peckham
14:29 – Reverse wireless charging is now faster than ever. Huawei claims it'll be 3 times faster for the Mate 30, which is a significant step up and something that's needed for it to prove useful day to day.
14:26 – We've just seen a slide that confirms the name Mate 30 Pro 5G and Mate 30 5G, so it won't be all versions of the handset that can use the next-gen internet technology. That may also be a China-only exclusive handset – hopefully we'll learn more at the end of the show.
Yu also confirmed the Mate 30 Pro will sport a 4500mAh battery while the Mate 30 will be a touch smaller at 4200mAh. Both also come with 40 watt super-charging too, plus wireless charging is up to 27 watt.
That's the fastest wireless charging we've seen on a smartphone before. 
14:24 – We've just seen a video that shows off the superior 5G speeds of the handset, but it's not entirely clear where the tests were taken. The video confirmed it's based on a live 5G network though, and it was 50% faster than the Note 10 Plus 5G.
14:22 – That's enough of the outside. We're onto the internals, and the handset is now confirmed to sport the Kirin 990 that was launched at IFA 2019.
Huawei claims it has the "most advanced 5G antenna design" with 21 antennas in total and 14 of them are dedicated to 5G. Huawei is also calling out the new iPhones for not sporting 5G.
James Peckham
14:18 – The phone will come in Cosmic Purple, Emerald Green, Black and Space Silver. That purple color looks like our favorite from our quick glimpse on stage.
There's also a leather version of the phone called "vegan leather". It's still IP68, and Huawei calls it "skin-friendly and durable". Exactly what the material is made out of is unclear. It comes in orange and green.
James Peckham
14:17 – There's no power button on this phone. It's all done by the screen… exactly how that will work when your phone is off is currently unclear, but it could be an interesting implementation of curved screen tech.
The phone is also IP68 water and dust resistant so you'll be able to take this in the shower without worrying about it.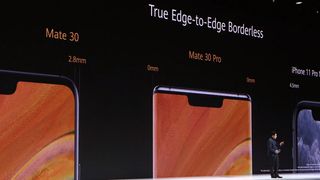 James Peckham
14:15 – The notch on the phone is smaller than the Mate 20 Pro's. It's now down to 26.6mm compared to the almost 33mm on last year's phone. Inside is a 3D depth camera, ambient light and proximity sensor and the standard camera. Oh, and there's also a gesture sensor.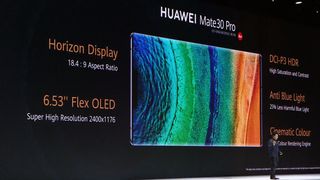 James Peckham
14:12 – From looking at the phone Yu is holding in his hands, it doesn't look like it's running EMUI software… could that be the handset that is coming to the Chinese market that may sport HarmonyOS? We should find out soon…
14:10 – Horizon Display is another big new feature, and it allows the screen to curve further around the phone. It's 88 degrees, which is more of a curve than you'll see on other top-end phones.
The Mate 30 Pro sports a 6.53-inch OLED with a resolution of 2400 x 1176. It has an aspect ratio of 18.4:9… It looks vivid from the phone that Richard is holding on the stage.
It's currently unclear if this Horizon Display will also be available on the standard Mate 30.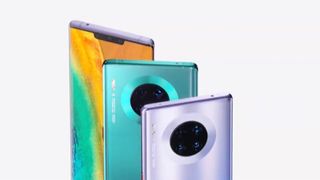 James Peckham
14:08 – That round camera is referred to as the "Halo ring", and it's inspired by professional cameras. 
14:07 – And there we have it. The Huawei Mate 30 and Mate 30 Pro have already been confirmed on stage. There's a round camera on the rear with what looks like four shooters.
14:06 – Yu is now talking about how Huawei uses the Mate series to push ahead in innovation. Mentions of the Mate 20 X 5G have already started, plus a quick mention of the upcoming Huawei Mate X.
Yu also confirmed on stage that the company would begin shipping the Mate X in the Chinese market from next month. There's no clear mention of what it'll be doing elsewhere around the world.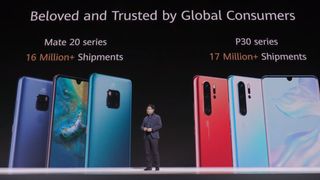 James Peckham
14:04 – Richard Yu, CEO of Huawei Consumer Business Group, has come on stage. He's looking pretty casual in a navy shirt and very dashing jacket. We're kicking off with Huawei's incredible growth in the last year.
Smartphones are up 26% between January and August year-on-year, while PC, Smart Audio and Wearables have grown over 200% each.
14:01 – We're into a countdown on possibly the largest screen we've ever sat in front of. Richard Yu is very likely to disappear in front of this mammoth display.
13:59 – The voice of god has just told us to get prepared. We're expecting at least seven different devices today, so pray for our fingers and bear with us as we get started on what's expected to be an eventful hour and a half. 
13:54 – The music in the room has a hint of Game of Thrones about it. It's all a little bit like that scene from season 6 with the Great Sept of Baelor and, you know, the thing that happens. 
Either that or the other best way of describing it is it's similar to Huawei's ringtones…
13:50 – We're sat down at the launch and ready to roll. We're in the second row – if you're watching the live stream – and we've just heard a call saying it's all set to start in 10 minutes. 
13:45 – Huawei's troubles have been well documented recently, but it's still expecting a big turnout today.
This place is HUGE! pic.twitter.com/L1sBHJi2jsSeptember 19, 2019
James Peckham
13:30 – If only Huawei had signposted this event better…
Can anyone help me work out what Huawei is launching today? pic.twitter.com/yD9Wja6USISeptember 19, 2019
James Peckham
13:05 – There's less than an hour to go now, but our preview of what to expect isn't over. Something else we could see Huawei launch today is a TV. 
We already know the OnePlus TV will launch soon, and we've seen Huawei show off its in-house operating system – Harmony OS – running on the Honor Vision television. Today we could get a Huawei-branded set running the software.
James Peckham
12:45 – We're on our way to the event venue, and we're thinking more about what else Huawei may have in store for us other than new Mate 30 smartphones.
There's talk of the Huawei Watch GT 2 smartwatch, the successor to the Watch GT which had incredible battery life but lacked a number of key features. Hopefully Huawei will have added to its wearable app arsenal if it is to launch the Watch GT 2 today.
Another product that's rumor to arrive during the Mate 30 launch is the Huawei Band 4 Pro, a fitness tracker follow up to the inexpensive Band 3 Pro.
James Peckham
12:30 – There's just an hour and a half until Huawei's Mate 30 launch event gets under way, and if you fancy watching it with your own eyes as well as keeping up to date with our live blog then we can help.
James Peckham
10:45 – We're in Munich, Germany and even though the launch is just mere hours away the Huawei Mate 30 leaks keep on rolling. In fact, it appears there's actually very little we don't know about the rumored handsets now, with a huge number of convincing leaks having hit the web over recent months.