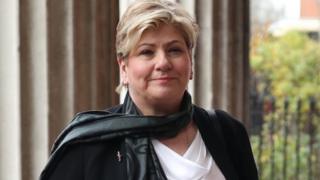 Shadow foreign secretary Emily Thornberry has become the first MP to officially enter the race to replace Jeremy Corbyn as Labour leader.
Writing in the Guardian, she said the next leader needed to have "the political nous and strategic vision to reunite our party".
Sir Keir Starmer, Yvette Cooper, Lisa Nandy have said they are also considering standing in the election.
Meanwhile Tony Blair has accused Labour of "letting the country down".
He also attacked the Labour leadership for going into the election with a "strategy for defeat".
Jeremy Corbyn has said he will stand down as leader "early next year" and the race to replace him could start on 7 January.
In an article announcing her candidacy, Ms Thornberry criticised Labour's decision to back an election earlier this year saying it was like "crackers voting for Christmas".
She said she had written to the leader's office warning "it would be 'an act of catastrophic political folly' to vote for the election".
"Instead, I said we should insist on a referendum on his proposed deal, to get the issue of Brexit out of the way before any general election."
"We wilfully went into a single-issue election with no clear position on that issue ."
Underlining her own leadership credentials, Ms Thornberry said she "took the fight" to Boris Johnson when he was foreign secretary and "pummelled him every week".
She said those wanting to be Labour leader needed to answer the question: "Do you have the political nous and strategic vision to reunite our party, rebuild our machine, gain the trust of the public, give hope to our declining towns and smaller cities, and never again waste the opportunity to take back power?".
Ms Thornberry has been the MP for Islington South and Finsbury since 2005.
We're off – Emily Thornberry is the first to formally say she's definitely going to stand to replace Jeremy Corbyn as Labour leader.
There's been an awful lot of huffing and puffing without people putting their heads above the parapet, and I think she's decided she might as well get on with it.
She's the shadow foreign secretary and was was highly critical of Mr Corbyn for his neutral stance over the UK's membership of the EU.
The fact that the party membership is still overwhelmingly Remain will help her cause, as will the fact that she was seen to have done pretty well when she stood in for Jeremy Corbyn at Prime Minister's Questions.
She's been loyal to Mr Corbyn but, at the same time, she doesn't identify closely with Mr Corbyn's team.
I suspect her difficulty, maybe, is that she will be fishing in similar waters to a number of other female MPs who may enter the leadership race such as Jess Phillips, Lisa Nandy and Yvette Cooper.
They've got to get 22 Labour MPs to back them if they want to get on the ballot paper – so that is the first hurdle they've got to get over.
Meanwhile Sir Keir Starmer has told the BBC he is "seriously considering" standing to be the next Labour leader.
The shadow Brexit secretary said Labour has "a mountain to climb" following its general election defeat.
Another potential contender Yvette Cooper said she would "decide over Christmas" about whether to stand.
Reflecting on Labour's defeat, Sir Keir – who was calling for another EU referendum – said the party had failed to "knock back" the Conservatives' "get Brexit done" slogan.
He also attacked the Labour's manifesto arguing it "had too much in it" adding "we couldn't see the wood for the trees".
Looking to the party's future, he said: "What Corbyn bought to the Labour party was a change of emphasis – radicalism that really matters – we need to build on that, not oversteer and go back to a bygone age."
Asked whether he considered himself to be a Corbynite, Sir Keir said: "I don't need someone else's name tattooed on my head to make decisions."
Labour's defeats in the North of England constituencies has led some to say the next leader should not come from London.
However Sir Keir said the Labour leader needed to "be able to talk to everyone" in the UK.
The former director of public prosecutions also insisted that "my background isn't what people think it is", adding that he had "never been in any other workplace than a factory" before he went to university.
Former Work and Pensions Secretary Yvette Cooper -who was defeated by Mr Corbyn in the 2015 Labour leadership contest – has also said she is considering another bid, saying she would "reflect over Christmas" on it.
Speaking to Radio 4's Today programme, she said Labour had "a long road to travel" adding that the party needed to tackle anti-Semitism, restore "kindness to our politics" and be more "inclusive".
Other candidates believed to be considering running to be leader include:
Tottenham MP and ex-Business Minister David Lammy,
MP for Norwich South and ex-shadow Treasury minister Clive Lewis,
Salford and Eccles MPs and shadow business secretary Rebecca Long Bailey,
MP for Birmingham Yardley Jess Phillips
Wigan MP and former shadow environment secretary Lisa Nandy