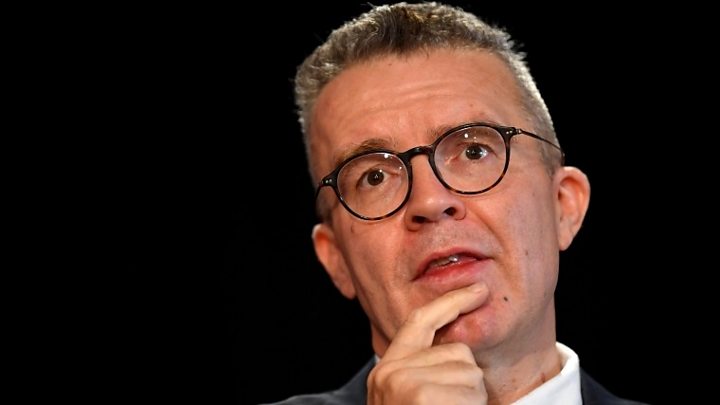 Labour's Tom Watson has said the bid to oust him as deputy leader by abolishing his post is a "sectarian attack" on the party's "broad church".
A motion had been tabled by Jon Lansman, of the Labour grassroots group Momentum, but was dropped after party leader Jeremy Corbyn intervened.
A Labour source said Mr Corbyn proposed the post should be reviewed, rather than abolished.
Mr Watson has been at odds with Mr Corbyn over the party's Brexit stance.
An initial move to oust Mr Watson was made at a meeting of the party's National Executive Committee (NEC) on Friday but it failed to get the two-thirds majority needed.
A further attempt was set to be made on Saturday at the party's conference in Brighton.
However before that went ahead, the NEC agreed to Mr Corbyn's proposal not to put abolishing Mr Watson's post to a vote and, instead, to review the post of deputy leader and other positions in support of the leader.
The Labour Party source said: "This will consider how democratic accountability can be strengthened to give members a greater say, expanding the number of elected positions and how diverse representation can be further improved."
Speaking to Radio 4's Today programme, Mr Watson said he found out about the move while having a meal at a Chinese restaurant in Manchester on Friday night.
He said: "It's a straight sectarian attack on a broad church party.
"It's moving us into a different kind of institution where pluralism isn't tolerated. Where factional observance has to be adhered to completely.
"And it completely goes against the sort of traditions that the Labour Party has had for 100 years."
He added that he felt that Momentum's founder Mr Lansman "and his faction" were so angry about his position on Brexit they would "rather abolish me than have a debate about it".
He appealed to Momentum activists to focus on showing people they were serious about changing the political economy of Britain rather than having "a sort of sleight-of-hand constitutional change to do a drive-by shooting of someone you disagree with".
The Parliamentary Labour Party (PLP), which represents Labour backbenchers, has written a letter to members of the National Executive Committee – including Jeremy Corbyn – saying the move is counterproductive and sends the country a message "we are more interested in internal battles" than constituents' lives.
Former Labour Prime Minister Tony Blair said abolishing the deputy leader post would be "undemocratic and politically dangerous".
'Outdated rulebook'
Asked if he thought the move had been made by Mr Corbyn himself, Mr Watson said "I don't know", but added his leader had the power to stop it.
He defended his role, saying he had been elected by party members and they could trigger an election themselves if they wanted to remove him rather than making a secret move at a last-minute meeting.
"These kinds of things happen in Venezuela, they shouldn't be happening in the United Kingdom," he said.
Mr Watson has urged Labour to "unequivocally back remain" and had said he wants another public vote on the UK's membership of the EU before any general election.
But Mr Corbyn wants to hold another referendum once Labour has won power, in which voters would have the choice to remain in the EU alongside a "credible" Leave proposal.
A Momentum source told the BBC: "We just can't afford to go into an election with a deputy leader set on wrecking Labour's chances.
"Labour members overwhelmingly want a deputy leadership election, but our outdated rulebook won't let it happen."
Dawn Butler, shadow women and equalities secretary, said Momentum's move had "come out of the blue" but she could understand the frustration with the deputy leader.
Asked if Mr Watson was doing the job well, she said: "I have my frustrations with Tom too. I haven't seen him at a shadow cabinet meeting for a while."
BBC political editor Laura Kuenssberg says Momentum's move "was not discussed" among its governing body – adding there was "anger" at Mr Lansman as this was "not an official decision".
Ex-PM Tony Blair, who led Labour from 1994 to 2007, said abolishing the deputy deader post suggested an "extraordinary level of destructive sectarianism".
He said the party has always contained different views and the deputy leader's position had been one way of accommodating such views.
"Getting rid of it would be a signal that such pluralism of views was coming to an end despite being cherished throughout Labour's history," he said.
Former party leader Ed Miliband said whoever came up with the idea had "taken leave of their senses".
Labour MP Wes Streeting called it "outrageous" and "self-destructive", while his colleague Jess Phillips said it was part of a desperate attempt to control and expel anyone in the party who has an independent thought.