With almost all football postponed indefinitely because of the coronavirus pandemic, star players have found themselves at a loose end.
With many training grounds off-limits, clubs have sent footballers home, where they're adhering to an isolation period for the next few weeks. How are they passing the time?
ESPN will be keeping a daily eye on what the world's best are up to, as well as how clubs are keeping busy by battling in online competitions against each other.
– Stream new episodes of ESPN FC Monday-Friday on ESPN+
– Stream every episode of 30 for 30: Soccer Stories on ESPN+
It's nice to know Manchester City striker Aguero gets upset about missing a goal in FIFA almost exactly as he does in real life.
Points for accuracy, EA Sports.
Aguero reacted the same way as his FIFA character after missing 🤣

(via SLAKUN10/Twitch) pic.twitter.com/f9YR4YRPrE

— ESPN FC (@ESPNFC) April 25, 2020
A wider angle of Aguero's gaming has revealed that he's really found a use for all those Premier League player of the month trophies he's won over the years…
Sergio Aguero using his player of the month awards to hold up his PS4 camera is a low-key flex pic.twitter.com/PCuErf95DX

— Simon Harrison (@simonhfootball) April 26, 2020
Alderweireld made sure to remind quarantined Tottenham fans that Sunday was supposed to be the big day. The North London derby will have to wait for another day.
Seen as it's supposed to be the #NorthLondonDerby today…😉 Can't wait for feelings like this again! Stay safe everyone 👊 pic.twitter.com/1Jp9NBVaOB

— Alderweireld Toby (@AlderweireldTob) April 26, 2020
PSG forward Neymar indulged his musical side by sitting at the piano and tinkling out a John Legend song.
🤔 Neymar or @johnlegend?

The PSG man has found a new talent in lockdown pic.twitter.com/GjB6xwVBce

— Sky Sports (@SkySports) April 26, 2020
Pereira, like many footballers, is honing his skills in the garden. But the West Brom forward might have to pop next door and ask for his ball back after this one …
Where is the Ball? 😂😂 pic.twitter.com/1TK9ZuYzBj

— Matheus Pereira (@MatheusPereira) April 25, 2020
Of course, it probably goes without saying that Juventus star Ronaldo is still working out.
The reverse Ronaldo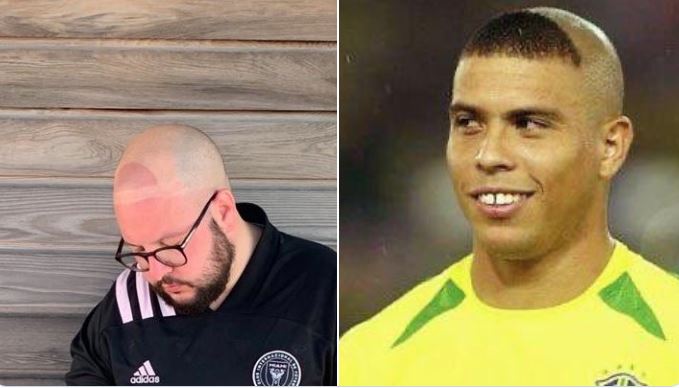 A baseball cap and a little too long in the sun gave Twitter user Roy Thomas a case of the reverse Ronaldos.
The legendary Brazilian striker made his own choice to create this haircut back in 2002 and later revealed it was so people would forget about a leg injury he was carrying at the World Cup.
"Everybody was talking about the hair and forgot about the injury," he said. "I could stay more calm and relaxed and focused on my training. I'm not proud about the hair itself because it was pretty strange. But it was a good way to change the subject."
Any niggles you need to distract from, Roy? Now is the time.