The Microsoft October 2019 Event kicks off today, and we expect the Redmond company to show off its latest and greatest Surface hardware, with plenty of rumors suggesting that we'll see the Surface Pro 7, Surface Laptop 3 and a completely new product dubbed 'Centaurus' at the event.
We're attending the Microsoft October 2019 Event in New York City, and we'll be bringing you the latest news, reviews and opinions in this live blog.
The event itself starts on October 2 at 10AM EDT /  7AM PDT / 3PM BST or 12AM AEST Thursday October 3, and you can watch along live – check out our guide on how to watch the Microsoft October 2019 Event for more information.
And make sure you keep refreshing this live blog, as we'll be updating it constantly throughout the day in the run up to the October 2019 Event – and during it as well.
Microsoft Surface October 2019 event live blog
All times in Eastern Daylight Time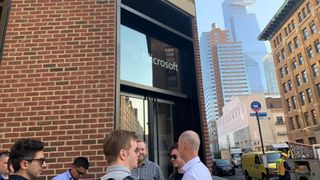 08:45 – We're waiting in line to get into the event, and we're told it will be at least 9am before we're able to sit down. Thankfully the weather is beautiful out here. 
07:30 – As the start time for Microsoft's October 2019 Event edges ever closer, we're making our way to the venue in New York City. We'll post some lovely pictures when we get there. Meanwhile, what do the other rumors hint at what we might see today? We've been hearing a lot about a dual-screen Surface device codenamed 'Centaurus', and it seems increasingly likely we could catch a glimpse of that at the event. A new rumor seems to back that up, with Windows 10X, a version of Windows 10 for dual-screen devices, apparently making an appearance later today…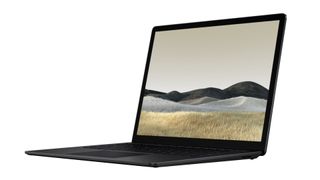 06:16 – And here's a leaked image that supposedly shows off the Surface Laptop 3. Again, this is pretty convincing and shows that Microsoft won't be straying too far from previous models – in the looks department, at least. However, rumors suggest that inside, Microsoft could offer a choice of Intel or AMD processors. Intel used to have a monopoly when it came to supplying the brain power to Surface devices, so this move is pretty big – if true.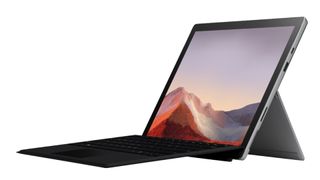 05:38 – This is one of the images that leaked yesterday, which seems to show the Surface Pro 7. It certainly looks plausible – and we'll find out if it's on the money in a few hour's time.
05:36 – So, what can we expect from the October 2019 Event later on today? It seems like a lot of Microsoft's surprises have been spoiled, with a particularly large cache of images leaking onto the internet that seem to confirm that the Surface Pro 7 and Surface Laptop 3 do actually exist. It's also likely that Microsoft will launch an ARM-powered Surface Pro 7. This could give it longer battery life than a Surface Pro with an Intel processor.
05:03 – Today's the big day for Microsoft as it gets ready to host its October 2019 Event later on. It's super early in New York City – but we're excited to bring all the latest news about what Microsoft has in store. Also, the UK team is currently handling live blog duties, and it's 10:03am here.