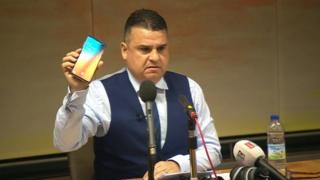 Police have launched an inquiry after a politician made secret recordings of the man who was in charge of overseeing three complaints about him.
Welsh Assembly Member Neil McEvoy claimed his recordings of standards commissioner Sir Roderick Evans revealed sexism and bias.
Sir Roderick, who resigned on Monday, said much of what had been shared was out of context and misleading.
Independent AM Mr McEvoy said he had acted lawfully.
South Wales Police said it had "commenced an investigation following a referral from the National Assembly for Wales concerning allegations of covert recordings".
Mr McEvoy's actions prompted a security sweep of the assembly estate.
Opening assembly business on Tuesday, presiding officer Elin Jones said police had been asked to look into how the recordings were made and investigate their legality.
"The covert recording of private conversations on the assembly estate is a serious breach of trust," she said.
She alleged the recordings included confidential evidence by a witness during an investigation into Mr McEvoy's conduct.
Assembly authorities have begun the process of finding an acting commissioner and Ms Jones told the assembly no complaints would be dropped as a result of Sir Roderick's resignation.
Mr McEvoy recorded hearings held by the commissioner as he conducted his investigation into the former Plaid Cymru AM, using a mobile phone he said was either in his jacket, bag or on a table.
They recorded conversations held while the South Wales Central AM was out of the room and others on the recordings were unaware he had made them.
Mr McEvoy defended his secret recordings of Sir Roderick and his staff in a press conference on Tuesday.
Accusing Sir Roderick of presiding over a "locker room culture", he claimed the commissioner aired "really sexist views" about "female lawyers who – of course because they're female – they're emotional".
He added: "There was a provocative and politically incorrect culture in the commissioner's office that came across through the recordings."
Mr McEvoy alleged he heard a joke made about women politicians and a comment that former Plaid Cymru leader Leanne Wood should "wind her neck in".
Sir Roderick, a former high court judge and pro-chancellor of Swansea University, previously said Mr McEvoy's conduct was "wholly unacceptable" and "undermines the integrity of the complaints procedure".
The office of the standards commissioner had no further comment to make about Mr McEvoy's press conference.
The controversy erupted in the assembly chamber on Tuesday, when Brexit Party Senedd leader Mark Reckless was told by Ms Jones to stop quoting from a transcript of the recordings.
She also demanded he withdraw an accusation that she was biased, to which he replied: "The truth or otherwise of the allegation, I withdraw it."
What allegations is Neil McEvoy facing?
He faces three investigations – one relating to £5,000 of building work on his constituency office.
In a transcript of the recordings released to the media by Mr McEvoy's office, Sir Roderick is reported saying the authenticity of two quotes "couldn't be demonstrated".
"We have to consider if they are forgeries or whatever, [and] whether he should be reported to the police," he added.
Mr McEvoy said he had taken the cheapest quote available: "The quotes were nothing to do with me. I took them in good faith."
He said the builder was "just somebody that I knew."
The second matter was about him losing his temper with Labour AM Mick Antoniw – he admitted being "aggressive to him," but felt Mr Antoniw was arrogant.
"If the individual was really offended by my behaviour, and he was upset by it, then I apologise to Mick," he added.
He also faced an allegation he misused assembly funds for political campaigning.
Dismissing this, Mr McEvoy said: "Strange that, isn't it, a Plaid Cymru member using his office for the benefit of Plaid Cymru."
He was a Plaid Cymru member until 2018, when he was expelled.