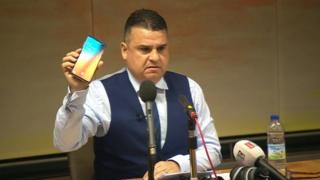 Police have launched an investigation into secret recordings made by a Welsh assembly member of the man who oversees complaints about AMs.
Independent AM Neil McEvoy claimed his recordings of standards commissioner Sir Roderick Evans revealed sexism and bias.
Sir Roderick, who resigned on Monday, said much of what had been shared was out of context and misleading.
Mr McEvoy's actions prompted a security sweep of the assembly estate.
South Wales Police said it had "commenced an investigation following a referral from the National Assembly for Wales concerning allegations of covert recordings".
Mr McEvoy was facing three separate investigations by Sir Roderick.
Opening assembly business on Tuesday, presiding officer Elin Jones said police had been asked to look into how the recordings were made and investigate their legality.
"The covert recording of private conversations on the assembly estate is a serious breach of trust," she said.
She alleged the recordings included confidential evidence by a witness during an investigation into Mr McEvoy's conduct.