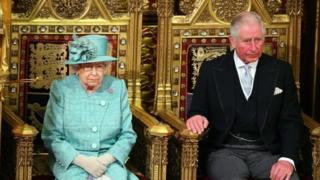 The Queen has set out the Conservative government's agenda for the year ahead, following last week's decisive election win.
Legislation to take the UK out of the EU on 31 January was among more than 30 bills being announced during Thursday's State Opening of Parliament.
Other measures included guarantees on extra health service funding and longer sentences for violent criminals.
PM Boris Johnson says he wants to unite the UK and "level up" opportunity.
But Labour said the government would be judged on how far it made up for "years of underfunding" of the health service and, so far, its proposals fell short of what was needed to deal with rising waiting times and staff vacancies.
Thursday's State Opening – the second in about two months – had less pageantry than usual, as was the case the last time a snap election was held in 2017.
The Queen travelled by car from Buckingham Palace to Parliament, rather than by horse-drawn carriage, and she did not wear ceremonial dress.
In the Queen's Speech, which is written by the government, it was announced a commitment on the health service's funding will be enshrined in law, with an extra £33.9bn per year provided by 2023/24.
A Royal Commission will be established to improve the "efficiency and effectiveness" of the criminal justice process and there are bills that will ensure the most serious violent offenders serve longer prison terms.
Of the bills included in Mr Johnson's second Queen's Speech in less than three months, seven were devoted to Brexit – with legislation on trade, agriculture, fisheries, immigration, financial services and private international law.
Addressing Parliament, the Queen said the "priority" for her government was to deliver Brexit on 31 January, but ministers also had an "ambitious programme of domestic reform that delivers on the people's priorities".
The Queen's Speech also included:
Plans for an Australian-style points-based immigration system from 1 January 2021
New visa to "ensure qualified doctors, nurses and health professionals have fast-track entry to the United Kingdom"
Hospital car parking charges "will be removed for those in greatest need"
A plan for "long-term reform" of social care
Ministers will continue work to reform the Mental Health Act
New sentencing laws to "ensure the most serious violent offenders, including terrorists, serve longer in custody"
Those charged with knife possession will face "swift justice"
New laws to "accelerate the delivery of gigabit capable broadband"
The government will continue to take steps to meet net zero greenhouse gas emissions by 2050
Work will be taken forward to repeal the Fixed-term Parliaments Act – which would enable the prime minister to call an election without the consent of MPs
Plans for a 50% business rate discount for small firms, including independent cinemas, music venues and pubs
During his election campaign, Mr Johnson promised a welter of new legislation within the first 100 days if the Tories won. Much of this was carried over from the last Queen's Speech, which took place on 14 October.
Little or no progress was made on any of its contents before MPs agreed to an early election.
The prime minister now has a Commons majority of 80 – the largest enjoyed by a Conservative leader since Margaret Thatcher in 1987.
When the pageantry is over, Parliament will be asked to immediately begin ratifying the agreement the PM negotiated in October.
The first debate and vote on an updated EU Withdrawal Agreement Bill is expected on Friday before MPs leave for the Christmas recess.
The PM's increased parliamentary authority and command of his party means it is likely to pass without major changes in the New Year in time to meet the 31 January deadline.
No 10 signalled earlier this week that it would rule out any extension to the 11-month post-Brexit transition period, in which the UK will continue to follow EU rules but without any representation in EU institutions.
Ministers have said they are confident of concluding a new trade deal by 31 December 2020 although many EU officials are sceptical this can be done in such a short amount of time.
In another move welcomed by Tory MPs, the bill will also enable more British judges to depart from previous rulings of the EU's top court.
The PM's commitment on the NHS amounts to a 3.4% year-on-year increase in expenditure, a significant increase on what the NHS received during the five year Tory-Lib Dem coalition government as well as under his predecessors David Cameron and Theresa May.
But it is significantly lower than the 6% average annual increases seen under Labour leaders Tony Blair and Gordon Brown. And when adjusted for inflation, and factoring in the increased cost of equipment, medicines and staff pay, it could actually be worth £20.5bn by 2023-4.
"If the Conservatives' plans to put funding increases into law is to be anything other than an empty gimmick, we would urge them to pledge the extra £6bn a year which experts say is needed to start to make up the cuts they've imposed for a decade," said the party's health spokesman Jonathan Ashworth.