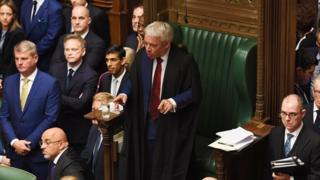 Parliament is sitting on a Saturday for the first time in 37 years to debate and vote on Boris Johnson's Brexit deal – here is what to expect.
What is happening?
MPs began their special session at just after 09:30 BST. We don't know what time they will finish amid uncertainty over the votes.
Peers sit a little later at 10:00 and are due to finish at 15:00.
Commons proceedings got under way with a statement from Prime Minister Boris Johnson and a response from Labour leader Jeremy Corbyn.
The prime minister took questions on his Brexit deal from MPs for nearly two hours – and they are now debating the government motion on it.
What time will voting get under way?
It's likely to begin after 14:30 but the timings have yet to be announced.
There could be up to four votes – or no votes at all.
Commons Speaker John Bercow has selected two amendments to be voted on by MPs.
They are:
Former Conservative MP Sir Oliver Letwin's proposal to withhold approval for the deal unless and until legislation implementing it is passed
A cross-party amendment rejecting a no-deal Brexit and seeking a second referendum
The first vote will be on the Letwin amendment, if it is moved.
This could be followed by a vote on the main government motion – whether or not to back the deal.
The government does not want this vote to happen if MPs back the Letwin amendment, as it could delay Brexit.
It is not clear at this stage how they would prevent the vote happening – it's possible Tory MPs could abstain – but the motion has already been tabled.
If it does take place, and MPs reject the deal, we could then move to votes on a second government motion on whether or not there should be a no-deal Brexit.
Before a vote takes place on that, MPs could get a chance to vote on the cross-party amendment rejecting a no-deal Brexit and seeking another referendum.
MPs would then vote for a fourth time on the government no-deal motion. We know there is a majority in the Commons against a no-deal Brexit, so this would be unlikely to pass.
Regardless of what happens on Saturday, the government has said it plans to push ahead with the legislation enacting the treaty agreed by Boris Johnson in Brussels – the Withdrawal Agreement Bill.
They plan to hold the second reading of that bill on Tuesday, which would give MPs a chance to register their support – or not – for Boris Johnson's Brexit deal.
What happens if MPs vote for the deal?
If the government motion is passed by MPs without being amended, it will just be the first stage of getting the deal into law.
The government is likely to want to move quickly so it can meet Boris Johnson's 31 October deadline.
The Withdrawal Amendment Bill, which implements the legally-binding treaty, will be presented to Parliament early next week – something the government now plans whatever happens in Parliament on Saturday.
How can you follow the debate?
You can find out the latest developments on the BBC News website and app, where we'll have live coverage in text and video, and analysis from our experts.
There will also be coverage on BBC One from 09:00 to 13:15, BBC Two from 13:15 to 16:30, and continuous coverage on the BBC News Channel.
There will also be extended editions of BBC News at Six and News at Ten, as well as a special edition of BBC Newsnight.
Why is the Letwin amendment significant?
The latest gambit by the alliance of MPs around Sir Oliver Letwin looks like a real problem for the government whips, writes our parliamentary correspondent Mark D'Arcy.
The lesson of the Brexit battles so far is that it is the cross-party amendments and motions that are the most dangerous.
Single-party proposals are mostly efforts to signal a position, it's the proposals that MPs from several parties can sign up to that pose a more serious threat.
It's a cunningly crafted proposition which, crucially, could be voted for by MPs who want a deal, but don't trust this one, and don't trust the government.
It rests on the idea that were Parliament to approve the deal for the purposes of the Benn Act now, there might then be a danger that the subsequent legislation to enact it might be, somehow, derailed, resulting in a no-deal exit on 31 October.