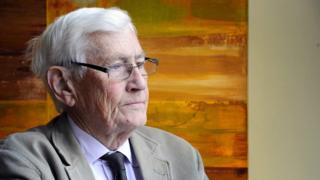 Past and present government ministers are among the mourners at the funeral of Northern Ireland's former deputy first minister Seamus Mallon.
Mr Mallon, who died on Friday was 83, was deputy leader of the Social Democratic and Labour Party (SDLP).
He was one of the key architects of the 1998 Good Friday Agreement.
First and Deputy First Ministers Arlene Foster and Michelle O'Neill, Irish PM Leo Varadkar and NI Secretary Julian Smith are in the congregation.
Archbishop Eamon Martin, leader of the Catholic Church in Ireland, chief celebrant of the Mass in St James' Church, Mullaghbrack.
The mourners included former Taoiseach (Irish prime minister) Bertie Ahern and former Northern Ireland First Minister Lord Trimble.
The church only seats 55 people so the church hall and an additional marquee have been opened to house the overspill.
SDLP deputy leader Nichola Mallon will be reading at the funeral and singer Malachi Cush will be performing.
The Northern Ireland Assembly is expected to sit briefly at 12:00 and suspend, before reconvening at 16:30 for members to pay tribute to Mr Mallon, before a procession takes place to open a book of condolence.
A separate book of condolence opened at Belfast City Hall on Saturday, while another was opened at the Guildhall in Londonderry on Sunday.
Hollywood star Sharon Stone is among those who have signed the Belfast City Hall book.
Paying tribute to Mr Mallon on Monday, former Foyle SDLP MP Mark Durkan said he was "a man of intense passions but he was also a man of very soft graces".
"Seamus was someone in a very natural way who could bring people together. When he saw hurt, he wanted to heal it," he added.
Mr Mallon was the first person in Northern Ireland to hold the post of deputy first minister, when the role was created in 1998.
At that time, Ulster Unionist leader David Trimble was first minister and although they were dubbed a political "odd couple", the pair were united against violence.
David Kerr, a former adviser to Mr Trimble, said the two men had done some of the "heaviest lifting" of the peace process and had not received enough recognition for that.
"Certainly with the Nobel Peace Prize, [former SDLP leader] John Hume was recognised, but at the end of the day I think Seamus Mallon did the majority of the work," he said.
"He was plain speaking, very direct, very honest – he told you what he thought.
"I think when you have people like that in politics it's refreshing and when you are straight and you have integrity in politics, people – whether they agree with you or disagree with you – they respect you."
Mr Mallon served as the deputy leader of the SDLP when Mr Hume was leader of the party.
Both men are widely regarded as playing a key role in the forging of the 1998 Good Friday peace agreement, which established power-sharing government in Northern Ireland.
In his long career in politics, Mr Mallon also served as a member of Seanad Éireann (the Irish Senate)
He is survived by his daughter Órla.
His wife Gertrude passed away in October 2016 after a long illness.