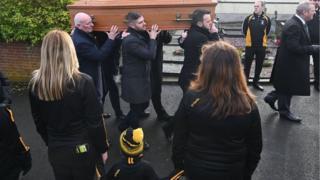 Seamus Mallon was a peacemaker who "made a real difference to the world", mourners at his funeral have been told.
The former deputy first minister of Northern Ireland, who was one of the key architects of the 1998 Good Friday Agreement, died on Friday aged 83.
Past and present government ministers were among the mourners in St James' Church in Mullaghbrack, County Armagh.
Archbishop Eamon Martin said he was a "shining example of someone who gives their life in a vocation of service".
Northern Ireland's First and Deputy First Ministers Arlene Foster and Michelle O'Neill, Taoiseach (Irish PM) Leo Varadkar and Northern Ireland Secretary of State Julian Smith were part of the congregation.
Other mourners included former Taoiseach Bertie Ahern and former Northern Ireland First Minister Lord Trimble.
Archbishop Martin, leader of the Catholic Church in Ireland, told those gathered in the tiny County Armagh church that the politician was determined to "make a real difference, and to leave the world a better place than it was when he entered it".
'Bridge builder'
He said having lived through "the worst of the Troubles" in Northern Ireland, Mr Mallon "personally played a central role in the landmark events of our peace process".
The archbishop described him as a peacemaker, a bridge builder, a leader and a statesman.
But he added "whether he was with presidents, prime ministers, party colleagues, or his own good neighbours and friends here in Markethill, he was the same Seamus".
St James' Church only seats 55 people, so the church hall and an additional marquee housed the overspill.
His coffin was carried into the church by his SDLP colleagues, including party leader Colum Eastwood and former leader Mark Durkan.
During the ceremony, gifts representing Mr Mallon's life and career were brought to the altar.
They included a copy of the former MP's maiden speech to the House of Commons and a photo of him with Pope John Paul II.
Other personal items included fishing reel, a pot of roses and a set of golf balls.
Tim O'Connor, a former secretary general to the President of Ireland, told mourners the veteran politician would be remembered as one of the "key leaders in a seminal time in the history of Ireland".
Mr O'Connor spoke of his steadfast opposition to violence, and read an extract from Mr Mallon's memoirs in which he recalled the words of his father when he was a young boy.
"The only weapons that should ever be used again in this country are words," he read.
"Guns never solve problems, only make them – always remember that, son."
Seamus Mallon's parish priest, Fr Michael Woods, expressed sympathy for Mr Mallon's family, including his daughter Orla.
"We are deeply conscious that for you, Orla, and the entire family this is an occasion of great personal sadness as you say farewell not so much to a man of high stature in public life on the island, but rather your own dear father," he said.
The Northern Ireland Assembly is expected to sit briefly at 12:00 and suspend, before reconvening at 16:30 for members to pay tribute to Mr Mallon, before a procession takes place to open a book of condolence.
A separate book of condolence opened at Belfast City Hall on Saturday, while another was opened at the Guildhall in Londonderry on Sunday.
Hollywood star Sharon Stone is among those who have signed the Belfast City Hall book.
Mr Mallon was the first person in Northern Ireland to hold the post of deputy first minister, when the role was created in 1998.
At that time, Ulster Unionist leader David Trimble was first minister and although they were dubbed a political "odd couple", the pair were united against violence.
David Kerr, a former adviser to Mr Trimble, said the two men had done some of the "heaviest lifting" of the peace process and had not received enough recognition for that.
"Certainly with the Nobel Peace Prize, [former SDLP leader] John Hume was recognised, but at the end of the day I think Seamus Mallon did the majority of the work," he said.
"He was plain speaking, very direct, very honest – he told you what he thought.
"I think when you have people like that in politics it's refreshing and when you are straight and you have integrity in politics, people – whether they agree with you or disagree with you – they respect you."
Mr Mallon served as the deputy leader of the SDLP when Mr Hume was leader of the party.
Both men are widely regarded as playing a key role in the forging of the 1998 Good Friday peace agreement, which established power-sharing government in Northern Ireland.
In his long career in politics, Mr Mallon also served as a member of Seanad Éireann (the Irish Senate)
His wife Gertrude passed away in October 2016 after a long illness.
Mr Mallon will be buried in the cemetery in the grounds of St James' Church, where he was baptised.