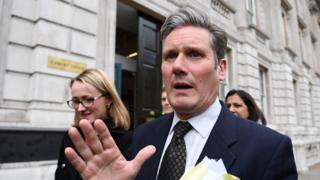 Some MPs are being "casual" about Northern Ireland and the consequences of a no-deal Brexit, the shadow Brexit secretary has said.
Sir Keir Starmer said that some politicians "don't appreciate the politics and history of Ireland".
He was speaking at a fringe event at the Labour Party conference in Brighton organised by the party's Irish Society.
Mr Starmer was speaking after the party agreed to stay neutral while negotiating a new EU deal.
There had been strong calls for the party to campaign for Remain.
In a reference to the Prime Minister, Boris Johnson, he said: "When you say you will leave without a deal – do or die – what sort of message does that send to the people of Northern Ireland?"
However, he added he was pleased his party has backed a second referendum.
At the same event, the general secretary of the TUC, Frances O' Grady, said in the absence of new arrangements for the Irish border the backstop remains the best way forward.
She said the government was still "touting magical solutions that were rejected some time ago" and that "any responsible politician should recognise that you have that insurance policy [backstop] in place until credible alternative solutions are in place".
Earlier, Irish Labour leader, Brendan Howlin, criticised Sinn Féin's call for a border poll in the event of a no-deal Brexit.
Mr Howlin was also speaking to the BBC at the Labour Party conference on Monday.
He said that Sinn Féin's vice president Michelle O'Neill's calls were premature.
Mrs O'Neill said a no-deal Brexit was "incompatible with the Good Friday Agreement" and if it occurs then a poll on Irish unity offers the only answer.
Speaking at a fringe meeting at the Labour Party conference in Brighton on Sunday night, Mrs O'Neill said there could not be a "crash-out Brexit".
She claimed that Brexit had resulted in "the break up of the union", adding that "the genie is out of the bottle and it is not going back".
Mr Howlin said Mrs O'Neill's comments were "simplistic" and an "unwelcome suggestion right now".
He added that there needed to be a "profound debate" otherwise people would be buying "a pig in a poke".
Lewis Nesbitt, from the Northern Ireland constituency Labour Party, stated that Labour was "instrumental in forming peace in Ireland".
He added that the party must commit itself to the Good Friday Agreement to ensure future generations can enjoy "the peace I have".
Mrs O'Neill's remarks about a united Ireland referendum came after Labour leader Jeremy Corbyn spoke about the possibility of a border poll.