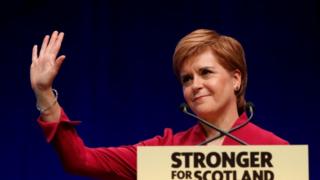 A second referendum on Scottish independence "must happen next year", Nicola Sturgeon has told the SNP conference.
Ms Sturgeon confirmed that she will ask the UK government to give formal consent by the end of this year.
She said Westminster had "no right" to block the request, and its opposition to indyref2 is "not sustainable".
But she stressed any referendum had to be legal if the result was to be recognised internationally.
She said this was because her aim was not merely to deliver a referendum – but to deliver independence.
Ms Sturgeon, who is Scotland's first minister, told delegates at the conference in Aberdeen: "My call is that the referendum must happen next year.
"And we are getting ready. By the new year, we will have completed our legislative preparations. We are already working to update the independence prospectus.
"And I can confirm today that before the end of this year, I will demand the transfer of power that puts the legality of a referendum beyond any doubt."
The UK government has repeatedly said it will not grant a Section 30 order, which was used to ensure the legality of the independence referendum in 2014 in which Scottish voters opted to remain in the UK by 55% to 45%.
This has led to calls for Ms Sturgeon to outline a so-called Plan B, with some activists and elected politicians arguing that the SNP winning a majority of Scottish seats in an election would be enough for independence negotiations to begin with the UK government.
Others have called for an unofficial referendum to be held, similar to the disputed one in Catalonia in 2017.
But Ms Sturgeon told the conference that the question should not be what the SNP will do if Westminster refuses to agree to a Section 30.
She said: "The question should be demanded of the Westminster parties – what gives you any right to deny people in Scotland our ability to choose our own future?
"The Westminster refusal is not sustainable. We can already see the cracks appearing.
"Just like us, they know there is going to be a referendum. And they know that when there is, Scotland will choose independence."
However, Ms Sturgeon again stressed that the process "must be legal" and must "allow majority support to be expressed clearly and unambiguously".
She added: "It must have the recognition of the international community. Why? Because our job is not just to deliver a referendum. Our job is to deliver independence."
What else did Ms Sturgeon say?
Any Westminster party that wants SNP support if there is a hung Parliament after a general election should not pick up the phone if they "don't respect Scotland's right to choose our own future at a time of our own choosing".
The Conservatives, Labour and Liberal Democrats should apologise for the "broken promises" they made ahead of the 2014 independence referendum.
Brexit will "continue to dominate Westminster for years to come" regardless of whether the UK leaves the EU with or without a deal.
SNP MPs will never vote for any deal that takes Scotland "out of the EU, out of the single market and out of the customs union."
Did she announce any new policies?
Ms Sturgeon said the Scottish government would introduce a new law to establish emergency protective orders which would help to ensure that it is the perpetrators of domestic violence rather than the victims who lose their homes.
She said: "We need to change the reality that for women and their children, often the only way to escape an abuser is to flee their home. For too many, that results in the victims of abuse becoming homeless."
Ms Sturgeon also announced that the SNP will scrap non-residential social care charges for all if she is still first minister after the Holyrood election in 2021.
And she said her party would pledge to expand childcare into the school holidays for primary pupils from the poorest backgrounds in its election manifesto.