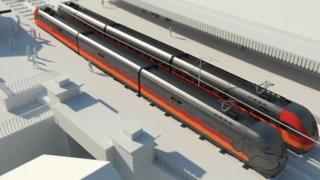 The lack of toilets on new tram-trains that will serve the south Wales valleys has been branded "dehumanising".
Trams proposed for the new £738m south Wales rail network upgrade, planned for 2022, will not have toilets on board.
It means passengers between Cardiff, Treherbert, Aberdare and Merthyr Tydfil will have to use station facilities.
Transport for Wales said its plan was similar to metros across the world and passengers "will never be more than 20 minutes away from a toilet".
The rail franchise operator promised to upgrade station facilities as the planned smaller trams will need to run on streets as well as traditional rail lines.
But passenger Ben Marriott, who has a bowel disease and regularly travels from Cardiff to visit family in Aberdare, said it would be impossible on the new trains.
Mr Marriott has ulcerative colitis, a form of inflammatory bowel disease, meaning he may need to use a toilet up to 40 times a day.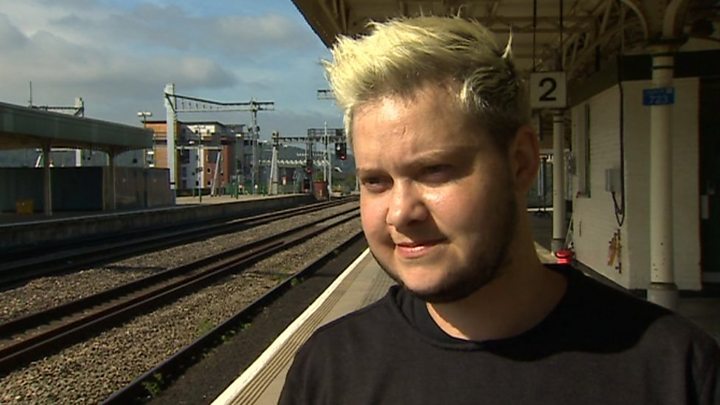 "I don't use the toilet like a regular person," said the 33-year-old.
"There's a lot of urgency, you can't plan and you never know when you're going to need the toilet.
"It's dehumanising the thought of having to make that journey without a toilet. I'd be restricted to only using the trains with toilets."
TfW said its new tram-train designs have yet to be finalised, but would be similar to those in other UK cities such as Manchester, Sheffield and Nottingham.
It also said the frequency of trains would be increased and journey times on the new trains would be quicker.
The Cardiff to Treherbert service is the longest on the Valley Lines branch, with two trains an hour and each journey taking 65 minutes.
When the new trains arrive in December 2022, it will rise to four trains an hour taking 50 minutes.
However, Mr Marriott said this would prevent him visiting family.
"People would be stuck in the valleys and cut off," he said.
"It's sad because it's such a simple thing that would make a huge difference to the quality of people's lives. It's ill-thought out."
Plaid Cymru's Rhondda AM Leanne Wood raised the issue with First Minister Mark Drakeford.
She said the lack of toilets could be a "real problem" for people who were ill, pregnant, elderly or had a medical condition.
"It's a really bad idea," she said. "Some people will be travelling for more than an hour on the train.
"It's not feasible to get off at a station and wait however long for the next train to come along. When you consider things like rugby internationals, this could be a disaster."
Passenger campaign group Railfuture Wales chairman Peter Kingsbury said: "We're happy there will be improvements at stations [but] expecting people to travel without toilets for an hour is concerning.
"Experience shows station lavatories can be readily vandalised, as many stations will continue not to have staff. The answer to this in the past is to lock the toilets."
TfW said toilets would not fit on new trams on the proposed South Wales Metro because they "are creating a modern metro style service, with tram-trains which need the ability to run on street".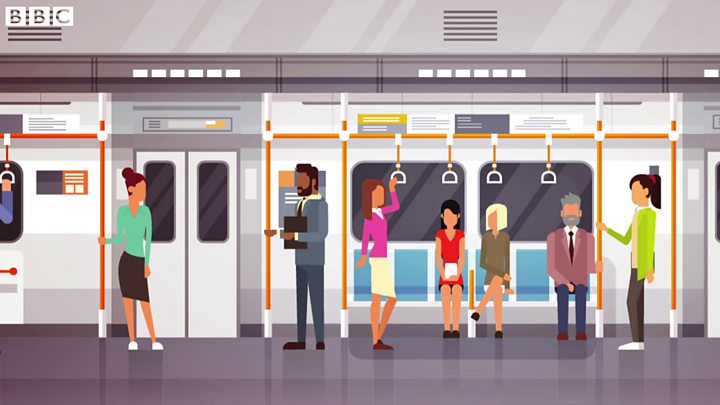 "Accessible toilets on trains are a key priority for services across our network and will be included on the vast majority of brand new trains," said a TfW statement.
"As such there are limited options available in the global rolling stock market for these types of vehicles with toilets on board. Despite this, we will look at what options may be available within the global supply chain to enable this.
"In addition to this, we have also committed to increasing the number of universal access toilets at stations on the Metro network, which will mean that passengers will never be more than 20 minutes away from a toilet, with a turn up and go frequency of services to allow people to hop on and off at their convenience."