The Sprint 5G coverage map is live in select US cities and they're the second American carrier with a 5G phone. That's a pretty good start for the nation's fourth-largest network.
We've tried out the network and, at best, reached around 330Mbps in our NYC Sprint 5G testing. That's faster than 4G LTE, though not quite as fast as the nearly 1.4Gbps we got from Verizon 5G in Chicago.
The key is Sprint is offering 5G coverage that blankets larger portions of the first US cities where it's available. It's not as far, no, but its coverage is wider. So far, it's in nine US cities – and while the company hasn't announced any more, they're building out that coverage for the rest of 2019.
Here's an overview of all the things Sprint is doing to get people blanketed with the fastest internet. From its 5G coverage areas and service plans to all the compatible phones and devices.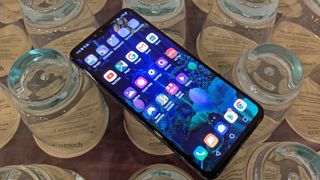 Sprint 5G service plans
During the initial rollout of Sprint's 5G service, customers with the high speed technology in their cities can utilize it with the Unlimited Premium plan.
The plan provides unlimited data, talk and text in US, as well 100GB of data for use as an LTE mobile hotspot. For one line, the Unlimited Premium plan costs $80 per month. 
The 5G supporting service plan also includes Hulu, Amazon Prime, Twitch Prime and Tidal HiFi.
Sprint 5G coverage map and rollout cities
Starting in May, Sprint's 5G service went live in Chicago, Atlanta, Dallas and Kansas City, followed by Dallas-Fort Worth. In August, 5G networks went live in New York City, Washington, D.C., Phoenix and Los Angeles. 
This 5G network won't be available across these entire cities at first, mind – only particular parts of their downtown metropolitan areas. New York City's coverage will start at 30 square miles between Midtown and lower Manhattan, for example. Meanwhile it will start in 230 square miles of the Dallas-Fort Worth region and 110 square miles in Kansas City, according to the Kansas City Star.
In total, the initial 5G coverage area was planned to span more than 1,000 square miles across all nine cities.
Sprint will surely continue to expand its 5G network as the year rolls on, and is using Massive MIMO radios to augment coverage and simultaneously meet consumers' 5G and LTE needs.
To take advantage of the service when it comes to your city, you'll need to have a device. Sprint currently sells four devices – three phones and a hotspot hub.
Sprint 5G phones
Sprint is the second carrier to be selling 5G phones, but it's arguably the first when it comes to offering handsets with wider reception and stable coverage for customers. 
Sprint became the first carrier to offer the OnePlus 7 Pro 5G in the US…and the second to offer a OnePlus phone in the country at all. While the LG V50 isn't breaking new ground compared to past offerings from the manufacturer, it will still be able to take advantage of the boost in connectivity. Samsung's S10 5G on the other hand, is a sight to behold.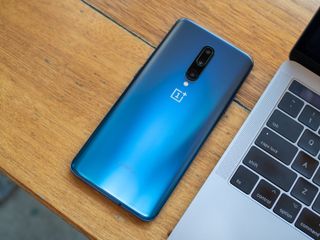 The OnePlus 7 Pro 5G is virtually unchanged from the base 7 Pro, yet an impressive phone nonetheless – and one of the most affordable 5G-capable phones. It compromises little to get early adopters connected to the next-gen networks for less coin than the fuller-featured Samsung Galaxy S10 5G.
You still get everything in the base 7 Pro, which includes three rear lenses, an in-screen fingerprint sensor and a pop-up selfie camera – meaning the front screen is unblemished with any notches or punch-holes. 
The 7 Pro 5G has a giant 6.67-inch screen and packs the leading Snapdragon 855 chip, 12GB of RAM and 256GB of storage – all for $840. While Sprint's network speeds aren't too high, you can still get decent speeds (up to 330Mbps, we found) on this top-notch handset.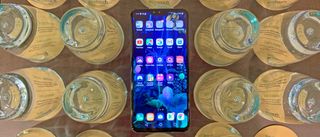 LG V50 ThinQ 5G
The first Sprint 5G phone you can buy is the LG V50 ThinQ 5G, which became available on May 31, 2019. LG introduced the phone at MWC 2019 as one of the first 5G phones that will hit the market, and it will be the initial device consumers can use on Sprint's fastest network yet. 
The V50 looks very similar to the V40, though it packs more of a punch thanks to the brand-new Snapdragon 855 processor (essential for hooking up to 5G networks). It has the same 6.4-inch OLED screen as its predecessor, yet features a larger 4,000mAh battery, ostensibly to watch more media and for longer with those hyper-fast connection speeds. 
The V50 5G will cost $24 per month with $0 down with Sprint Flex lease payment plan, which is half the price of buying the phone outright, according to Sprint.
Unfortunately, Sprint won't even sell you an LG V50 if you live outside a 5G city, but then again, you probably don't want one if you don't live in a supported city anyway.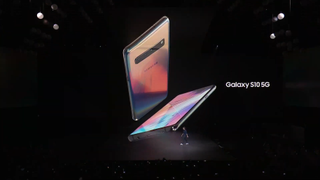 Samsung Galaxy S10 5G
One of the biggest, baddest flagship phones will be coming to Sprint's 5G network sometime this summer. No, literally: the Samsung Galaxy S10 5G has a 6.7-inch AMOLED display, one of the largest we've seen in a flagship phone, at least until the foldables start rolling out. 
Everything else about the handset is equally big, from its Snapdragon 855 chipset to its 256GB storage and 8GB of RAM. Like the Galaxy S10 and S10 Plus, the 5G variant has three rear lenses (12MP wide, 16MP ultra-wide and 12MP telephoto) along with a time of flight (TOF) sensor to measure depth. It's even got one of these TOF sensors on the front to augment your selfie game. 
Verizon started selling the 256GB Galaxy S10 5G for $1299.99 when bought without a monthly payment plan, so we suspect Sprint's S10 5G will be the same.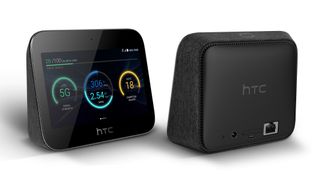 HTC 5G Hub
Okay, this definitely isn't a phone – but until Sprint announces more compatible handsets, the standalone HTC 5G hub might not be a bad substitute, especially if you already have a powerful device. 
The mobile smart hub (the first of its kind, Sprint claims in its press release) lets up to 20 users hook up to it for smooth 5G speed. It even has a 5-inch HD touchscreen for easy setup. Sprint also advertised that the device has built-in Gigabit Ethernet port, 7,660mAh battery and can be configured for a corporate VPN.
The HTC 5G Hub will cost $12.50 per month for the device and can use 100GB of high-speed data for $60.
The Sprint 5G future
These are the 5G cities, phones, and service plans available for Sprint currently, but what about later in 2019?
If T-Mobile and Sprint are able to merge, the question arises about how both carriers' different bands would be supported. Hopefully the next generation of Qualcomm modems, the Snapdragon X55, will be able to bridge the differences by virtually supporting all bands globally.