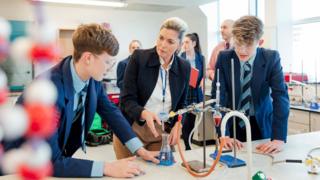 Government plans for schooling during the pandemic "lie in tatters", with England's pupils set to miss six months of lessons, Sir Keir Starmer has said.
Calling for a national task force to tackle the issue, the Labour leader said the consequences for inequality and children's education were stark.
Boris Johnson defended the plan, during Prime Minister's Questions, pledging extra support for vulnerable families.
Plans for all primary pupils to go back this term were ditched on Tuesday.
And although some secondary students, most of whom have been out of school since the end of March, are expected to be invited back for some face-to-face time with their teachers, their lessons are not expected to resume until September at the earliest.
'Flailing around'
Sir Keir said Mr Johnson had announced his plan to reopen primaries on 1 June, without consulting head teachers or having convincing scientific evidence on safety.
And parents had lost confidence in the government's schools plan.
He accused the prime minister of "flailing around trying to blame others" for what had been a completely avoidable "mess".
Mr Johnson retaliated, during a series of testy exchanges, saying Sir Keir should ask "his friends in the left-wing trade unions", meaning the teachers' unions, to help schools prepare.
He also accused the Labour leader of changing his mind over whether schools should be open.
Sir Keir said England was an "outlier" compared with other countries in Europe, which had re-opened some of their schools.
And his attempts to set up a cross-party task force to tackle the issue had been ignored.
'Astonishing'
Earlier, former Ofsted inspector Sir Michael Wilshaw said the government's failure to get pupils back to school was astonishing.
He said: "The government needs to get its act together… and make sure there is proper planning for September when both primary and secondary schools come back."
Children's Commissioner Anne Longfield called for a national strategy to return pupils to classes, warning children risked being forgotten as the lockdown lifted.
And concerns were raised at the Commons Education Committee about the impact of school closures on children's life chances.
Prof Lee Elliot Major, former chief executive of the Sutton Trust education equality charity, said he was "really worried" about the eight million children currently out of school.
He said: "There is a tsunami of anxiety hitting schools about the one million children who are going to be taking their GCSEs and A-levels next year."
And there needed to be clarity about how public exams would be handled next year, adding that he preferred a combination of exams and teacher assessment.
Sally Collier, chief executive of England's exams watchdog, told the committee contingency plans were being drawn up but gave no details.
Reports have suggested Ofqual might be considering delaying exams or using a system involving predictive grades.
Ms Collier suggested the government may be re-thinking the content of exams for next year and that schools would need to know at the earliest opportunity what they were going to need to teach next year.
Ofqual would be publishing a consultation in the coming weeks on possible measures to ameliorate the impact of educational disruption on next year's exam candidates, she told MPs.
Other premises
National Education Union joint general secretary Kevin Courtney said it was increasingly clear disruption to schooling was going to continue.
"Looking at the exams system, we could face some of this, a very similar situation, next year, we have got to learn from this year," he said.
Dr Zubaida Haque, of the Runnymede Trust, said there needed to be an urgent look at what could be done for pupils who were not going back to school this summer.
She said there were lots of venues available out of school, which could be utilised because of Covid-19 restrictions – such as football stadiums, private schools and golf fields.
She urged ministers to think creatively and urgently about how such facilities could be used, with a view to setting up summer schools to help pupils catch up and support them with pastoral and emotional needs.