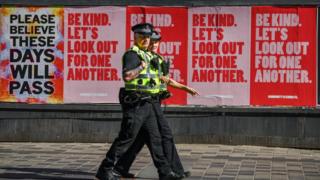 Nicola Sturgeon has warned it could be "catastrophic" to drop the stay at home message as she announced that the lockdown is to be extended in Scotland.
It has been suggested that Boris Johnson could scrap the slogan as part of moves to ease some lockdown rules.
Ms Sturgeon said the Scottish government may be prepared to allow people to spend more time outdoors.
But she said scrapping the "clear, well understood" stay at home message was "a potentially catastrophic mistake".
Ms Sturgeon said she would prefer all four nations to make changes together because that would help give consistent messages to the public.
However, she said it was possible to go "different ways" if they were at different stages.
She said: "If the prime minister wants to move at a faster pace for England, that is his right.
"But I hope you understand and agree that I must make judgements, informed by the evidence, that are right and safe for Scotland.
"I will not be pressurised into lifting restrictions prematurely until I am as certain as I can be that we will not be risking a resurgence in infection rates."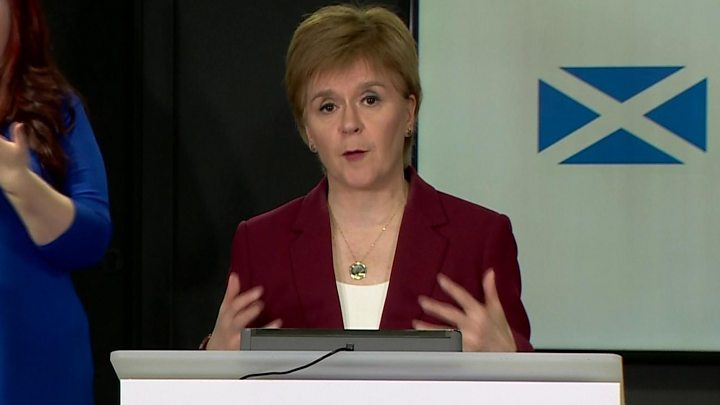 Mr Johnson will deliver an address to the nation on Sunday evening, and has suggested that some measures could start being eased from Monday.
Ms Sturgeon said: "Extreme caution is required at this critical juncture to avoid a rapid resurgence of the virus.
"It is not an exaggeration to say decisions now are a matter of life and death.
"That is why they weigh so very, very heavily and why they must be taken with great care, and it is why as I take them I will continue to err on the side of caution."
The first minister said the Scottish government's assessment of the evidence "leads me to the conclusion that the lockdown must be extended at this stage".
However, it is possible to make changes to the regulations before the next review date in three weeks' time "if the evidence suggests it is safe to do so".
Scotland's coronavirus deaths
The Scottish government has published a paper of options for starting to lift restrictions, although no dates are suggested.
Ms Sturgeon said she "may be prepared to agree to a change to guidance limiting outdoor exercise to once a day only". It has been rumoured that such a move is being considered by UK ministers.
However, she said this "would not change the overall message" that people should remain close to home and not mix with other households.
"The other possible changes that are reported in the media, such as encouraging more people back to work now, opening beer gardens, or encouraging more use of public transport, would not in my judgment be safe for us to make yet.
"What I do not want a few weeks from now is for us to see a resurgence of this virus, and for you to be asking me 'why on Earth did you start to ease lockdown a week or a couple of weeks too early'?.
Ms Sturgeon also said it was thought that the country's infection rate might still be higher than in other parts of the UK.
She said this may reflect the fact that the first cases of Covid-19 north of the border came later than in England.