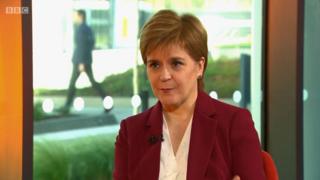 Nicola Sturgeon has warned Jeremy Corbyn not to "pick up the phone" and ask the SNP to put him in government unless he backs an independence vote.
The Scottish first minister said she was in favour of removing Boris Johnson from office and holding an election.
But she said her backing for a "progressive alliance" relied on a deal to hold an independence referendum.
Mr Corbyn has said he does not think a new independence poll is "a good idea", but has not ruled out allowing one.
Ms Sturgeon wants to hold a new vote in the second half of 2020, but has not yet asked UK ministers to allow it.
She said she would submit a "section 30" request to hold a new referendum later this year, but said it was not yet clear who the prime minister would be at that point.
She told the BBC's Andrew Marr programme that she would be willing to oust the Conservatives in favour of a "progressive-type alliance", but said warned Mr Corbyn to not "even pick up the phone" unless he accepts "Scotland's right to choose our own future".
Her comments come as the SNP gathers in Aberdeen for its autumn conference.