Checking through the cheap laptop deal scene here in the UK can be a bit overwhelming as there are so many options to choose from. Luckily for you, we're used to sifting through the net's laptop sales all year round.
So if you need to buy a new laptop sharpish, we should be able to find you something that fits with your budget nicely. We've split this guide into sections based on price to help you keep that budget in check.
We'll give you a bit of info about each laptop we highlight too, so you can see some specs at a glance before you click through to the store and have to browse their lengthy descriptions for those vital stats you're after. 
Not everyone needs a super powerful laptop, especially if you just want something for the basics like casual browsing, email and document editing, so don't feel like you have to spend £500 on a laptop for that – you can get something for far less if you want. Naturally, if you're a bit of a multitasker, love to have loads of tabs open and want a little extra grunt for media editing, we've found laptop deals with higher spec. Chromebooks get a mention most weeks too as they're increasingly popular nowadays as users look to ditch Windows for the stripped down speedy Chrome OS instead. For you Apple fans, you might be interested in our MacBook prices and deals page too.
If you're from the States or Down Under, be sure to check out our selection of the top laptop deals in the US or Australia.
The best Black Friday laptop deals
While there are plenty of terrific offers below, it's never too early to start thinking about discounts for the upcoming Black Friday sale. To help you find all the top laptop deals in one place, we've created a guide for Black Friday 2019. Laptops always do well on Black Friday, with big savings to be had. Bookmark the link and be sure to check it out on the 29th November to find your next laptop for less!
Cheap laptop deal of the week
HP 255 G7 15.6-inch laptop | £349.97 at ebuyer
The spec inside this laptop is a real head-turner at this price. A 256GB SSD paired with 8GB of RAM means this will handle multiple tasks at once with ease. An AMD Ryzen processor and Redeon Vega 3 graphics card will allow for some very light gaming too.
Cheap laptop sales and deal highlights
Laptops under £200
HP Stream 11 11.6-inch Cloudbook | £179 £129.99 at Argos
A cheap and cheerful laptop – perfect if you're in a pinch or looking for something lightweight to complete everyday tasks. The HP Stream doesn't carry the specs to get power users excited, but it's got the price tag to reflect that. 2GB of RAM and a 32GB hard drive show just how much you'll be using that 1TB of included OneDrive storage, but note that such little onboard storage space will struggle with future Windows updates. You've also got a year of Microsoft Office 365 Personal for free, making this a great student buy.
View Deal
HP EliteBook 745 G2 laptop (refurbished) | £139.99 at eBay
A cheap refurbished laptop deal that caught our eye this week is this HP EliteBook. This is a great price for a laptop with a 128GB SSD. We expect the battery on this won't last long at all, but if you're happy being plugged in at the mains all the time, this is a great deal. The laptop is covered by a one year warranty too.
View Deal
£200 – £300 laptops
HP 255 G7 FreeDOS 15.6-inch laptop | £214 at ebuyer
This is an incredible price for a laptop with 8GB of RAM and a 256GB SSD onboard. That's because there's no operating system in this impressive package. While you won't be able to boot up your favourite OS straight out of the box, grabbing a Windows 10 deal and taking the time to install is so worth it when you're getting hardware at this price.
View Deal
ASUS VivoBook 15 15.6-inch laptop | £399 £299 at Argos 
You'll see a more expensive version of the ASUS VivoBook 15 further down below, running with 8GB of RAM under the hood. While this £299 version only carries 4GB RAM, it keeps the 256GB SSD and full HD display which makes a £299 price tag all the more impressive. If you're looking for a heavy-duty machine, you'll want to check out the heftier model, especially with its Ryzen 5 processor. If you don't need all that guff, however, this is the model for you. View Deal
£300 – £400 laptops
HP 255 G7 15.6-inch laptop | £349 at ebuyer
The spec inside this laptop is a real head-turner at this price. A 256GB SSD paired with 8GB of RAM means this will handle multiple tasks at once with ease. An AMD Ryzen processor and Radeon Vega 3 graphics card will allow for some very light gaming too.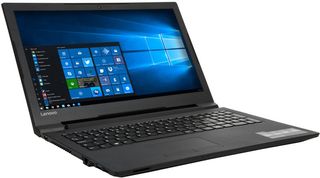 Lenovo V110 15.6-inch laptop | £359.98 at Amazon
This is a fantastic price for a full-sized laptop with 8GB of RAM, allowing you to multitask away with an abundance of tabs, apps and programs running at once. This is a great price for a laptop loaded with a 256GB SSD too. If you're going to be spending significant amounts of time at a desk working with a laptop, this is a solid performer.
View Deal
£400+ laptops
Asus VivoBook 15 laptop | £449.99 at John Lewis
If we're going off the raw internal specs of this laptop (8GB of RAM, 256GB SSD and Ryzen 5 processor) then you can certainly get that for less with one of our aforementioned laptop deals this week. However, this John Lewis deal comes with a two-year guarantee for free if you're looking for some extra cover.
View Deal
We'll continue adding the best cheap laptop deals in the latest sales as we find them. Up next, you'll find the latest prices on some of the most popular laptops around along with a list of retailers who often have a great selection of laptop sales if nothing else takes your fancy here.
What stores have decent cheap laptop sales?
More laptop prices
The cheapest laptop deals on these popular picks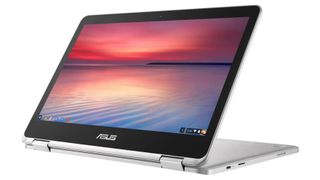 Asus Chromebook Flip
Arguably the best value Chromebook around
CPU: Intel Pentium 4405Y – Intel Core m3-6Y30 | Graphics: Intel HD Graphics 515 | RAM: 4GB | Screen: 12.5-inch, FHD (1,920 x 1,080) LED backlit anti-glare | Storage: 32GB – 64GB eMMC
Premium quality for a low price
Stylish tablet mode
Tactile keyboard
On release, the Chromebook Flip reached new heights for the Windows-free laptops as it came rocking a proper Intel Core processor along with a HD screen. Most models nowadays come with 64GB of storage instead of the 32GB which is plenty for running apps and storing regular documents and a fair few media files – you can always use a USB drive for more space. For most users, the newer PixelBook is what we'd call 'overkill', not to mention considerably more expensive, so we'd recommend this model if you just need something for work, browsing the net and so on. The Chrome OS works beautifully in this 2-in-1 laptop's tablet mode too.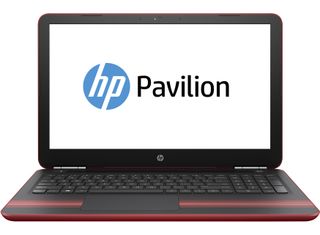 HP Pavilion 15
The de facto learning laptop lives on
CPU: AMD dual-core A9 APU – Intel Core i7 | Graphics: AMD Radeon R5 – Nvidia GTX 1050 | RAM: 4GB – 16GB | Screen: 15.6-inch HD (1,366 x 768) – FHD (1,920 x 1,080); touch optional | Storage: 128GB SSD – 1TB HDD
Thinner and lighter
Tons of options
Shallow, squishy keyboard
A sturdy choice for a study laptop for school/college/uni. The HP Pavilion 15 has plenty of power for the average student's needs while keeping the costs sensible. There are plenty of configurations available too. Some favour speedy SSDs, while others go for larger regular hard drives, so it all depends on what you're going to need more really. Faster loading or more space for storing media files and downloads.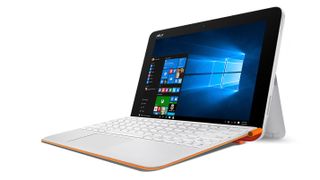 Asus Transformer Mini T102HA
Built-in fingerprint sensor
11-hour battery life
Stylish design
The Asus Transformer Mini series is one of the most reliable brands of 2-in-1 tablet/laptop hybrids on the market. This upgrade includes a fingerprint sensor and double the RAM at 4GB for speedier performance compared to the older models. For your money, this is one of the most impressive two-in-one transformer models out there. Available in orange/white as seen above, or in a traditional grey steel colour.


Ready to stretch that budget a bit (ok, maybe a lot) further? Then be sure to check out our selection of the very best laptops money can buy as we've used our dedicated price comparison technology to find the cheapest prices for them too. You can always come back to this page if they seem a bit overpowered (and over-expensive) for what you need.