The Best MMO games, or fully Mass(ively) Multiplayer Online Games, capture a gaming experience unparalleled elsewhere. Colossal digital landscapes teem with a collection of players, all plugging in from around the world, that could probably fill up a small country to interact, fight and play.
The acronym for MMO gets thrown around a lot without context, just like other game genres – think RPG, RTS, FPS and the like. And while you may be new to the acronym MMO or its popular variation MMORPG (RPG means Role Playing Game), you'll have heard of at least one or more of the games belonging to these genres such as World of Warcraft or Runescape. 
MMO's have become so ubiquitous that Amazon has been preparing their own, a 17th century set game called New World, taking advantage of Amazon's already built out cloud to host multitudes of players.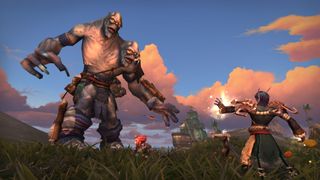 Think of MMOs this way. They are vast worlds set in some sort of fictional or fantasy setting where you can create an alternate you or avatar, one that you can level up and enhance over time. These games do cater to a particular audience and don't appeal to all gamers since they do take quite a bit of time to play. But considering how popular the best MMO games are and how many of them there are, there's obviously a demand for them and the opportunity to lead a second life, if you will.
That doesn't mean the same thing for everyone however. There are so many directions to go whether you want to interact in a high fantasy world or fly across space in your own ship. Maybe you want complete freedom to do whatever you want or want to engage in an intricate story. You even have the ability to make a new group of friends or go rogue on every player you come across.
That's what an MMO gives you – choice. There are a multitude of games, each with their own customizable and various characters, stories. You can experience different styles of play.
Whatever it is that appeals to you, one of the best MMO games will draw you in, possibly making you wish this second life was your first. So take a look at our selection of best MMO games to find the one best for you. Keep an eye out for your favorite MMOs on Black Friday and Cyber Monday since the perfect deal might just give you one more reason to join in.