The best MMO games, or to give them their full name Massively Multiplayer Online Games, capture a gaming experience unparalleled elsewhere. They are vast worlds set in some sort of fictional or fantasy setting where you can create an alternate you or avatar, one that you can level up and enhance over time. And, these massive worlds get filled with enough players to fill up a small country, all plugging in from around the world to interact, fight and play.
Though these games do cater to a particular audience and don't appeal to all gamers, the best MMO games are still extremely popular. So much so that Amazon has been preparing their own, a 17th century set game called New World. After all, they essentially offer an opportunity to lead a second life or a respite from your current one.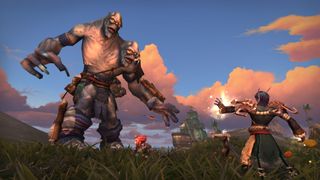 Plus, there are so many directions to go, whether you want to interact in a high fantasy world, fly across space in your own ship or have the complete freedom to do whatever you want. You even have the ability to make a new group of friends or go rogue on every player you come across.
If you're new to the acronym MMO or its popular variation MMORPG (RPG means Role Playing Game), rest easy. You'll have heard of at least one or more of the games belonging to these genres such as World of Warcraft or Runescape. And, we are here to help as we've gathered the best MMO games 2020 has to offer. Whatever it is that appeals to you, one of these MMO games will draw you in. Take a look at our selection of best MMO games to find the one best for you.