Our best smartphone list brings you the best phones available right now in the UAE, Saudi Arabia and the rest of the Middle East. If you already have your mobile OS alliance set you'll want to check out either our ranking of the best Android phone or best iPhone.
If what's on offer in our best smartphone list is a little too pricey for your taste, then don't fear, as we've also got a list of the best cheap phones available right now.
And if you're not ready just yet to pick up a new mobile, it could be worth holding out. Announcements for the OnePlus 7T Pro and Google Pixel 4 are expected in the coming months, and these may shake up the list.
We've already seen a huge number of top smartphone launches this year, which means our best smartphone list has seen plenty of new entrants over recent months including new iPhones and the Galaxy Note 10 range.
We know that it's not all about the high-cost, super spec phones all the time so we've made you a handy list of all the top smartphones that you can get on the market right now, assessing what really matters to you.
We test these phones rigorously, making sure that we check every angle and feature – but most importantly, considering whether they've got a decent battery, great screen, strong design and a cracking camera.
On top of that, they can't be too exorbitant in price either – not everyone wants or can afford a supercar of a handset, so we've made sure there are plenty of options for you there.
So let's get started on our list of the top phones – you can see them quickly below, and then we're set to talk you through the very best phone in the world right now.
Best phones at a glance
Samsung Galaxy Note 10 Plus
iPhone 11
iPhone 11 Pro
Samsung Galaxy S10 Plus
Huawei P30 Pro
iPhone 11 Pro Max
Samsung Galaxy Note 10
Huawei P30
OnePlus 7 Pro
Samsung Galaxy S10e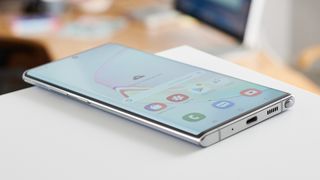 1. Samsung Galaxy Note 10 Plus
Smartphone opulence with an S Pen
Release date: August 2019 | Weight: 196g | Dimensions: 162.3 x 77.2 x 7.9mm | OS: Android 9 | Screen size: 6.8-inch | CPU: Exynos 9825 / Snapdragon 855 | RAM: 12GB | Storage: 256/512GB | Battery: 4,300mAh | Rear camera: 12MP + 12MP + 16MP + ToF | Front camera: 10MP
The best screen on a phone
Handy S Pen stylus
Supremely expensive
Big and slippery design
The Samsung Galaxy Note 10 Plus is one of the largest phones there is, but this stylus-toting handset is our second favorite phone you can buy right now.
It's expensive, but it features some of the best specs you'll get on a smartphone in 2019.
Screen: The screen on this phone is huge and the Infinity-O cutout means there's little interruption to the display here, allowing for an immersive experience.
Battery life: We found the battery life on the Samsung Galaxy Note 10 Plus to easily last the whole day, plus the fast charging tech means you're able to pump it up quickly when you're nearing 0%.
Camera: The camera setup on the Samsung Galaxy Note 10 Plus isn't the best on the market, but it's impressive and offers a lot of fun features that you may want to play around with.
Mini Verdict: Samsung's Galaxy Note 10 Plus is a remarkable device, but it's only for those who want a large phone and don't mind spending that bit extra on a device. The S10 Plus will be more suitable for most, but the Note 10 Plus is a great phone too.
Read more: Samsung Galaxy Note 10 Plus review
Price comparison: The best Samsung Galaxy Note 10 Plus deals