Sponsored by RACV
Almost everyone is impressed by the futuristic applications offered by today's smart home tech. However, the potential difficulty in setting up (and affording) your own smart home up can make it seem like something best left to either the super rich or super geeky. In 2019, though, that no longer has to be the case.
Most people will know the RACV as one of Victoria's top automobile clubs. However, it's also put together a kit offering a compelling set of devices that can turn any home into a smart one. The RACV Smart Home Starter Kit collects together six SmartThings devices and provides everything you need to simply and quickly set up a smart home – and it costs just $249. Whether you want to monitor your premises or make life easier (or more fun!) this is the smart home set you've been searching for.
A solid foundation
The SmartThings Wifi hub is the core upon which the kit revolves. This simply plugs into your wireless router and connects all the other sensors together. It will monitor premises up to 140 square metres but if you have a bigger area, simply adding more hubs will extend the network. The kit includes three motion detectors alongside two Multipurpose sensors, which can monitor when doors and windows are opened as well as local temperature and even vibrations.
Everything in the kit is packaged in a way that makes setup simple and intuitive, with each component coming individually wrapped and with its own quick-start guide. It generally takes just a few minutes to connect each component, however if you'd rather outsource the job – and live in the metropolitan Melbourne area – it costs just $79 to have an RACV-approved expert install it all for you.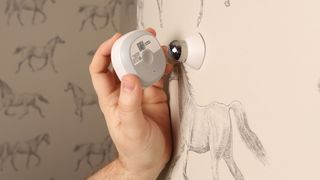 Easy to set up and expand upon
The motion sensors included in the kit each consist of two parts, and to set them up you simply affix the sticky-backed base onto your chosen surface and then clip the sensor on magnetically. The ball-shaped mounting means you can point the sensor in most directions, and it will register movement within three metres. The Multipurpose sensors also come in two parts – both with a sticky back – and have a magnetic switch that's triggered when doors and windows are used. Once you've positioned your sensors, you download the SmartThings app and connect to each using a simple QR code on the sensor's back. If you've pre-planned where you want to position each sensor, you can have everything connected and set up in less than 30 minutes.
Adding additional smart home sensors and components is simple thanks to the high compatibility of devices in the smart home world. It generally doesn't matter which manufacturer a device comes from either; if it runs on batteries, it likely connects using low-powered Zigbee or Z-Wave wireless technology. If Wi-Fi or Bluetooth were used for the same purpose, then each sensor's battery life would be measured in days. However, Zigbee and Z-Wave connections allow batteries to last for months or even years. You won't have to suffer the rigmarole of a regular charging and maintenance regimen. The SmartThings Wifi hub will wirelessly tie everything together, and make sure you can easily communicate with all your smart devices via your home network or across the internet.
The first thing you'll likely want to set up is your sensors. The SmartThings app comes pre-configured with settings that allow you to arm or disarm everything with a simple tap on your phone. When set to Away mode, if a door or window is opened (or if motion is detected) you'll be notified on your phone straight away. You can also add optional smoke alarms and moisture sensors to notify you in case of fire or flooding too.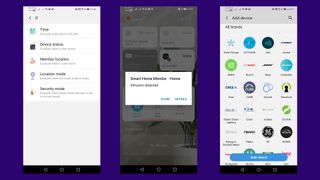 Tailor it to your needs
The true power of a smart home comes from setting up 'if this then that' automations. The SmartThings app again makes this simple by first asking you to set the 'trigger' before selecting a 'response'. There's a wide range of possibilities. At the simplest level, you can set a smart lightbulb to turn on when motion is detected. If you'd like to ramp things up a notch, how about creating a relaxing 'scene' which, with one command, dims the lighting, changes its colour hue and plays some light jazz from a smart speaker? Triggers can also include smartphone locations, so you can be notified when a child, parent or partner is almost home. Alternatively, you can add voice recognition via Google Assistant and Amazon Alexa to create a smart home that has much in common with the bridge on the starship Enterprise.
The good news here is that there's already a large global community of smart home enthusiasts who have pre-made many smart home functions and commands, and they're freely available via the IFTTT app. This makes controlling things, like your home's internet access via voice recognition, a breeze: you can become the bane of any errant child who has gone well past their "Just need a few more minutes to finish this level" negotiated boundaries.
Available now from just $249
Whatever type of smart home you want to achieve – and whatever the level of complexity – the RACV Smart Home Starter Kit is the perfect foundation for any premises. Sold separately, each component in the kit costs at least $80, so to get all six for just $249 is great value too. To find out more, or to purchase a kit directly, head on over to the official RACV website.
TechRadar was provided with a Smart Home Starter Kit for testing by RACV.