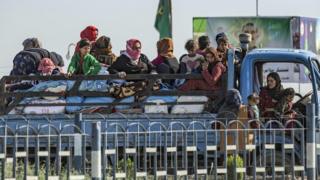 The UK government is to suspend arms export licences to Turkey amid concerns over its military operation in northern Syria, Downing Street has said.
Speaking in the Commons, Foreign Secretary Dominic Raab said the UK would keep its exports to Turkey under "very careful and continual review".
The Turkish offensive, which began last week, aims to push Kurdish-led forces from the border region.
Dozens of civilians have been killed in the operation so far.
Meanwhile, at least 160,000 have fled the area, according to the UN.
The Turkish government wants to create a "safe zone" in the area, where it can resettle up to two million Syrian refugees currently in Turkey.
Mr Raab told MPs the UK government has called on Turkey to "exercise maximum restraint and to bring an end to this unilateral military action".
"This is not the action we expected from an ally," he said.
"It is reckless, it is counter-productive and it plays straight into the hands of Russia and indeed the [Syrian President] Assad regime."
He went on: "I can tell the House that no further export licences to Turkey for items which might be used in military operations in Syria will be granted while we conduct that review."