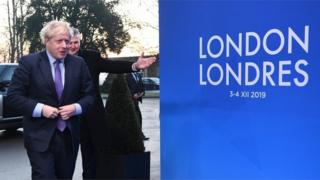 The UK's commitment to Nato is "rock solid", Boris Johnson is to tell leaders of the military alliance later.
He and other leaders, including US President Trump, are meeting for talks at a luxury hotel near Watford.
Last night, the PM held a meeting with Donald Trump at No 10, amid deepening divisions between member states.
Labour says it would ensure Nato focused on implementing "real defence" not "the aggressive militarism that we've seen in the past."
Speaking to the gathering of the military alliance to mark 70 years of the organisation, Mr Johnson will say Nato provides "a giant shield of solidarity that now protects 29 countries and nearly a billion people".
"The fact that we live in peace today demonstrates the power of the simple proposition at the heart of this alliance: that for as long as we stand together, no-one could hope to defeat us – and therefore no-one will start a war.
"This essential principle is enshrined in Article 5 of the North Atlantic Treaty – that if any one of us is attacked, all of us will go to their defence. If Nato has a motto, it is, 'one for all, and all for one'."
The Shadow International Trade Secretary, Barry Gardiner, said Labour were also committed to Nato, but the nature of warfare had changed and the alliance had to adapt.
"The way you defend the country is to make sure you don't go on foreign wars and you don't start bombing before you start thinking," he said, adding that Mr Corbyn had been on the "right side of history" on previous foreign policy issues such as the Iraq war.
Labour was determined to put the question of how to tackle emerging threats such as cyber warfare "at the heart of Nato", he added.
Although Labour's manifesto pledges to maintain the UK's commitment to Nato, former Foreign Secretary Jeremy Hunt has accused the Labour leader of wanting to "dismantle" it.
He said the Labour leader was "anti-Nato and anti-western" adding that the election of a Corbyn-led government would be "a body blow" to the alliance.
Mr Corbyn has previously attacked the organisation "as a danger to peace", but has more recently said "I don't think there is an appetite for people to leave Nato."
In addition to meeting Mr Trump, the prime minister held talks with German Chancellor Angela Merkel, French President Emmanuel Macron and Turkish President Recep Tayyip Erdogan on Tuesday to discuss Syria, Libya and counter-terrorism.
He has faced questions over whether he was avoiding a one-to-one meeting with Mr Trump, over concerns it could blow his election campaign off course.
But Downing Street said the two men had a low-key, off camera meeting.
Speaking as he arrived in Hertfordshire for the Nato meeting, the prime minister said he had held "a very good meeting" with Mr Trump discussing the future of Nato, Syria and other security matters.
The US president also tweeted about the meeting.
The Queen also hosted a reception at Buckingham Palace – attended by US President Trump – ahead of the Downing Street gathering.
Labour leader Jeremy Corbyn – who said he intended to ask the US president for "reassurances" that the NHS would be "off the table" in post-Brexit trade talks – was there too, but he did not have an opportunity to speak to him.
Speaking at a press conference earlier in the day, Mr Trump had said he wanted "absolutely nothing to do with" the NHS, adding he would not touch it even if it was handed to his administration "on a silver platter".
Asked whether he could work with Mr Corbyn as prime minister, he said he could "work with anybody", although earlier he said he thought Mr Johnson would do a "good job".