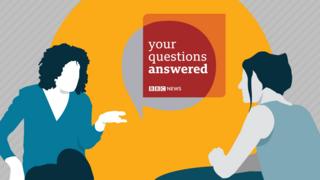 In England, some pupils are starting to return to school, but it's a different picture across the UK.
BBC News answers some of your questions about how coronavirus is affecting children's education.
Questions and answers
Latest questions
Your questions
What happened to the plan to provide all vulnerable school students with a laptop?

from David in Witham, Essex




BBC News
Reality Check

The government says that this plan is still on course.

At the beginning of lockdown, the government promised to provide laptops and tablets for disadvantaged children and young people, so that they would not fall behind in online learning organised by their schools.

Education Secretary Gavin Williamson told MPs on the Education Select Committee that 200,000 laptops would be delivered, some at the end of May, but most of them in June.

On 9 June Mr Williamson told the House of Commons that 100,000 laptops had been distributed, prioritising children who have social workers, and that the government was on schedule to distribute all the computers over the coming month.

However, he faced criticism from the opposition that the roll-out was taking too long. Labour MP Meg Hillier said that it was "already late for vulnerable pupils, and with no clear plan about catch-up".

Separate schemes to provide vulnerable children and adults with laptops have been announced in Northern Ireland, Wales and Scotland.

Social distancing is very difficult in schools. I'm a primary school teacher – shouldn't I be wearing a mask?

from Liezel




BBC News
Reality Check

Although the government has changed its advice on the use of face coverings in public places, it still recommends that face masks or face coverings should not be worn in schools.

It adds that face coverings should not be worn in any circumstances by those who are not able to handle them properly (for example, small children or those with special educational needs or disabilities), as they may "inadvertently increase the risk of transmission".

Trish Greenhalgh, professor of primary care health sciences at the University of Oxford, told the Times Educational Supplement that face coverings could also have a bad effect on the mental health of some children: "If compulsory masking is going to tip some kids into a bad space after weeks of stressful lockdown, we need to balance that risk with the potential benefits."

Meanwhile, other countries have taken different approaches when reopening schools. In France, for example, face masks are compulsory for teachers and pupils aged 11 and over, but they are not worn in Denmark.

Will schools stay open during the school summer holidays?

from Nic in Burgess Hill, West Sussex




BBC News
Reality Check

There are no current plans to open schools for most pupils during the summer holidays, but the situation varies across the UK.

In England, some Nursery, Reception, Year 1 and Year 6 children have gone back, but the government has dropped plans for all primary school pupils to return before the summer.

Similarly, some Year 10 and Year 12 students in England will go back from 15 June, but the government has confirmed that secondary schools may not fully reopen until September "at the earliest".

Schools in Wales will reopen from 29 June for all age groups, but only a third of pupils will be in class at any one time. The summer term has been extended by a week to 27 July, and the autumn half-term holiday will be stretched to two weeks.

Schools in Scotland and Northern Ireland won't be returning until after the summer holidays in August.

Across the UK, some vulnerable pupils and the children of key workers have been in school throughout the crisis, including during the Easter holidays, but it is not yet clear whether that provision will continue over the summer break.

What is being done to help Year 2 children who have to transition from infant school into Year 3 in junior school?

from Claire in Melbourne, Derbyshire




BBC News
Reality Check

Nothing specific is being done for children in Years 2 to 5, other than ongoing support for children to carry on doing school work at home.

Some children in Reception, Year 1 and Year 6 were able to go back to school in England from 1 June. The government had wanted all year groups to return for a month before the summer holidays, but those plans have now been dropped.

Our daughter is a teacher returning to work. Can we provide childcare for our grandchildren during school time?

from Debbie in Guildford




BBC News
Reality Check

You won't be able to provide childcare for your grandchildren in your home unless they and your daughter already live with you. The law only allows you to meet someone from another household "outside".

If the weather is good and your grandchildren are old enough to understand they need to stay 2m away from you at all times, you could look after them outside. But you couldn't take them in your car to an outside space and that sort of journey on public transport would be non-essential.

Because you live in England, no more than six of you could be together, observing social distancing, at any time. The same is true in Northern Ireland. In Scotland, eight people from two households can be together outside. In Wales, any number of people from two homes can be together outside.
End of Latest questions

What do I need to know about the coronavirus?
---
What questions do you have about coronavirus? Do you want to ask it on BBC News? Get in touch and we may ask you to send us a video of you asking your question.
In some cases, your question will be published, displaying your name, age and location as you provide it, unless you state otherwise. Your contact details will never be published. Please ensure you have read our terms & conditions and privacy policy.
Use this form to ask your question:
If you are reading this and can't see the form above you will need to visit the mobile version of the BBC website to submit your question or send them via email to YourQuestions@bbc.co.uk. Please include your name, age and location with any question you send in.