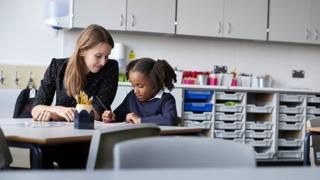 Schools across the UK are closing on Friday to the vast majority of pupils, possibly until September.
A small proportion of children will still be able to attend.
Whose children can still go to school?
Government advice is that all children should stay at home, if at all possible, from Monday.
This refers to primary and secondary schools, colleges and nurseries, both in the state and private sectors.
But schools have been asked to provide care for some children – those who are vulnerable, and those whose parents are key workers "critical to the Covid-19 response", who cannot be safely cared for at home.
Vulnerable children include those with a social worker or special educational needs.
A child's parent is a key worker if their job is considered critical to keeping the country running and/or fighting the spread of the virus. The government has published a list of key worker jobs:
Health and social care: Doctors, nurses, midwives, paramedics, social workers, care workers, frontline health staff (including volunteers), and those producing and distributing medicines, supplies and protective equipment
Education and childcare: Teaching staff, nursery workers, social workers and those in special education
Key public services: Those in the justice system, religious staff, charities, workers delivering frontline services, those responsible for the deceased, journalists in public service broadcasting
Local and national government: Those essential to the effective delivery of the response to the pandemic, and benefits services
Public safety and national security: Police and support staff, MoD civilians, contractors and armed forces personnel critical to the virus response
Transport: Those in air, water, road, rail passenger and freight services and anyone in transport systems through which supply chains pass
Food and other necessary goods: Those in production, distribution, sale and delivery of food and other necessary goods
Utilities, communications and financial: Staff in banks, building societies and financial markets, as well as those in gas, oil and electricity sectors, those in network operations and call centres, 999 and 111 staff, postal services, delivery and waste disposal sector
A child only needs one parent to be a key worker to be eligible to attend school.
Which schools will be open?
It is not clear which will remain open for the children of key workers and the vulnerable.
The government has suggested most will be able to go to their usual school, which suggests nearly all will be open.
The number of children attending is also unclear. Ahead of the publication of the key worker list, head teachers asked parents to nominate themselves. Local authorities were coordinating unofficial lists.
Education Secretary Gavin Williamson said that in England the aim would be to provide support in school for an estimated 10% of pupils.
But demand will not be evenly spread and some schools have much higher numbers of pupils to care for.
How long are schools likely to be closed?
It is increasingly likely that schools may be closed until September, although nothing has been formally announced.
Scotland's First Minister Nicola Sturgeon said she cannot guarantee that schools in Scotland will reopen before August.
What we do know is the peak of the virus outbreak is likely to be in May and June, after which most schools start to wind down.
But ultimately it will depend to a large extent on the effectiveness of measures to reduce the spread of the outbreak.
What will happen about exams?
Summer exams have been cancelled in England, Wales and Scotland. This includes GCSEs and A-levels in England and Wales, plus primary school national curriculum tests, known as Sats, in England. In Scotland, Highers and Nationals will not be going ahead.
Mr Williamson told the Commons on Wednesday: "We will work with the sector and [the exams watchdog] Ofqual to ensure children get the qualifications that they need."
More details are awaited.
How will children be assessed instead?
Exams watchdogs have been working together for some time to look at alternative arrangements.
These may include:
using predicted grades
teacher assessments
looking at coursework
considering other evidence of candidate performance
It is likely exam boards and regulators will agree a uniform system to ensure students can be compared.
For those hoping to go on to university, Universities UK – the vice-chancellors' organisation – has suggested universities may honour offers already made on the basis of predicted grades.
Why did government hold out against closures?
In many other countries schools were closed earlier on in the outbreak.
The UK's reluctance to follow suit was based on information that children are not as vulnerable to coronavirus as adults.
There were also fears about elderly relatives – the group most at risk from the virus – from being called upon to provide childcare.
---
Have you been affected by the school closures due to coronavirus? Please get in touch by emailing haveyoursay@bbc.co.uk.
Please include a contact number if you are willing to speak to a BBC journalist. You can also contact us in the following ways: