Baseball's winter meetings are underway in San Diego, beginning Monday with the big news of Stephen Strasburg returning to the Nationals, continuing Tuesday with Gerrit Cole's record deal with the Yankees and running through Thursday's Rule 5 draft. With big-name free agents such as Anthony Rendon narrowing their lists of potential landing spots and stars including Mookie Betts, Francisco Lindor and Kris Bryant reportedly on the trade block this offseason, it's sure to be an exciting week of wheeling and dealing.
Start the fun with our experts' predictions on which moves could shape these meetings and check back throughout the week for the latest news, rumors, buzz and analysis.
Watch BBTN at the Winter Meetings on YouTube at 3 p.m. ET on Wednesday.
Jump to: Tuesday's buzz and rumors | Monday's buzz and rumors | Expert predictions

Key hot stove links
• Trades we want to see at the winter meetings | Jeff Passan's trade tiers
• Keith Law's top 50 free agents (ESPN+) | Free-agent tracker
• A blockbuster move for all 30 teams | Hot stove survey:
Cole joins Yankees for $324 million:
• Doolittle (ESPN+): Yankees now baseball's best | Law (ESPN+): Nine years is a looong time
• Gonzalez: What's next for Angels? | Olney (ESPN+): Cashman wins the winter
• Schoenfield: The history of highest-paid pitchers
Strasburg returns to Nationals:
• Winners & losers | Olney (ESPN+): How next dominoes will fall

Tuesday's winter meetings rumors and buzz
Yankees get Gerrit Cole: Earlier Tuesday, agent Scott Boras threatened that Cole signing in San Diego was looking likely. Hours later, he had his client inked to a historic deal for nine years and $324 million with — who else? — the Yankees. It's a deal that makes them the team to beat.
Gerrit Cole has an opt-out clause after the fifth year of his deal with the New York Yankees, a source tells ESPN.

— Jeff Passan (@JeffPassan) December 11, 2019
ESPN Writer
Aaron Boone spoke to us earlier today about the Yankees pitch to Gerrit Cole: "We feel like — I certainly feel like there is no better place than to come play for the Yankees in the Bronx, and hopefully at the end of the day he feels the same way."
---
Can Red Sox move an aging ace? The Red Sox might be looking to move around some money, and they're apparently ready to be creative with their remaining commitment to veteran lefty David Price:
The Boston Red Sox continue to pursue ways to shed salary, and multiple teams have targeted starter David Price, sources tell ESPN. He is owed $96 million over the next three years. Red Sox could either attach player with value or potentially pay down some of Price's remaining $.

— Jeff Passan (@JeffPassan) December 11, 2019
---
Nats look at Rendon replacements: But they're thinking about more than just replacements for their (possibly) departing star third baseman, as the Nats get their read on the field:
ESPN Staff Writer
Nationals GM Mike Rizzo isn't thinking about trades right now, just free agents. Anthony Rendon is obviously at the top of his list but Rizzo said he's 'touched base' with Josh Donaldson's reps as well: "We're focused on the free agent market as far as our infielders are concerned. That could change. Our guys are mapping out a strategy for us and different options."
---
Phillies fill up their infield: The Phillies landed a shortstop with the power to right field that will play well in their park — and who will let them reshuffle their infield — by striking a deal with Didi Gregorius:
Shortstop Didi Gregorius is in agreement with the Philadelphia Phillies on a deal, as @joelsherman1 reported. There was plenty of interest in Gregorius, but the Phillies landed him instead of pursuing an infielder in the trade market.

— Jeff Passan (@JeffPassan) December 10, 2019
ESPN.com
Didi Gregorius leaves the Bronx and will reunite with his former manager Joe Girardi in Philly on a 1-year deal. Sir Didi had been a popular Yankee — known among fans for his emoji-saturated postgame recaps on Twitter — despite having the impossible task of replacing franchise icon Derek Jeter at shortstop. But with a crowded infield — and money earmarked for, ahem, a starting pitching upgrade — the Yanks didn't make Gregorius a qualifying offer.
---
Giants get active: While rumors about Madison Bumgarner being wooed back to the Bay were swirling around San Diego, the Giants made a couple of roster-building moves, getting veteran infielder Zack Cozart and 2019 first-round pick Will Wilson (another infielder) for a player to be named later or cash. Then they inked a free agent of their own: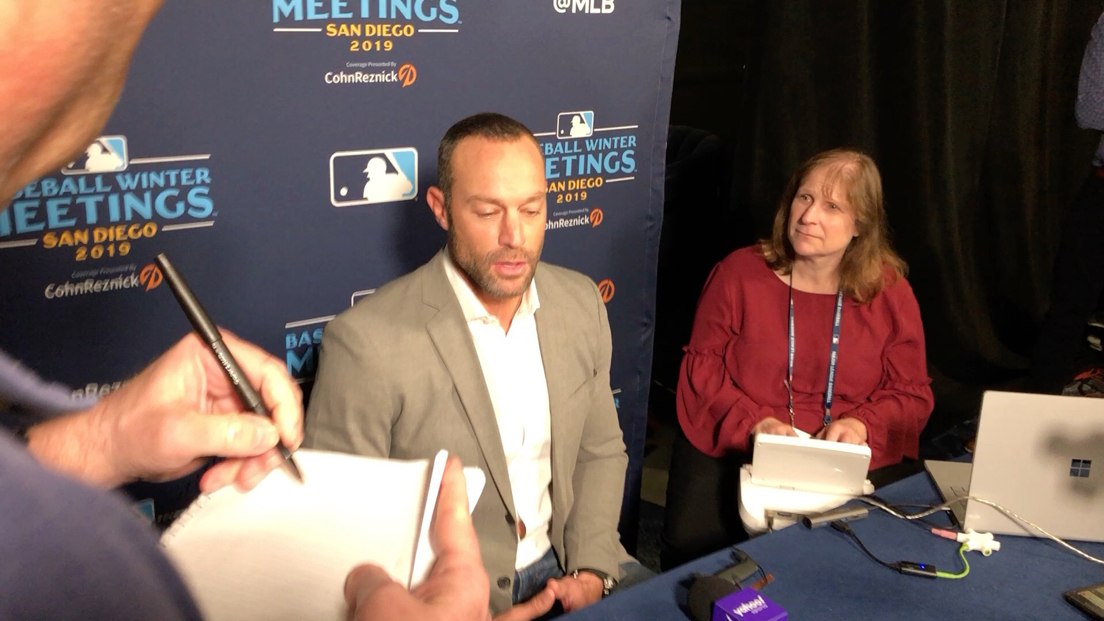 ESPN Staff Writer
New Giants manager Gabe Kapler reacts to the club's acquisitions of Kevin Gausman and Zack Cozart.
Right-handed Kevin Gausman and the San Francisco Giants are in agreement on a one-year, $9 million contract, a source familiar with the deal tells ESPN.

— Jeff Passan (@JeffPassan) December 10, 2019
ESPN Staff Writer
The Angels have traded infielder Zack Cozart and minor league middle infielder Will Wilson to the Giants. The Giants, a source said, will pay Cozart his entire $12.67M salary for the 2020 season. Significant savings for the Angels at a crucial time.
---
Yankees make offer to Cole. The New York Yankees have offered Gerrit Cole a contract worth more than the record-breaking, seven-year, $245 million deal that Stephen Strasburg and the Washington Nationals agreed to Monday, sources told ESPN's Buster Olney.
ESPN Writer
Here is what Scott Boras said when I asked how "close" were the Gerrit Cole negotiations: "'Close' has a broad definition but we're certainly well into the negotiation process to where you can say you can potentially see a finish line."
ESPN Staff Writer
Scott Boras says free agents Anthony Rendon and Gerrit Cole are getting deep into the process of deciding where they'll play. Boras was asked if offers have been submitted: "We're getting far along in negotiations. There's offers made by clubs. We're actively in the middle of it…They're hard to predict, how these things go, but normally when you have this many people involved and you're that far along, it's probable something can be done in a very short term."
---
Will the Angels make a run at Rendon? The Angels are being connected to the best bat on the free-agent market if they miss on signing the best pitcher available (Gerrit Cole), but there's a hitch: How will the Halos address their rotation if they spend big bucks on a hitter?
ESPN Staff Writer
A pursuit of Anthony Rendon by the Angels, mentioned by Jon Heyman, could fall in line with what Billy Eppler recently alluded to about acquiring a position player that could then give them more flexibility on the trade front for a starting pitcher. One problem: Outside of trading Jo Adell (or Mike Trout, or Shohei Ohtani), I don't think the Angels have enough to access a frontline starter on the trade market.
---
A free-agent reliever to watch. In a market without many big-name relief options, Brandon Kintzler is one bullpen option drawing interest at the winter meetings. His 2.68 ERA was the lowest mark on the Cubs' pitching staff in 2018.
ESPN Staff Writer
Multiple teams calling on reliever Brandon Kintzler. Had a career-type year in 2019 as a middle/set-up man. Unclear if the Cubs are interested in a return engagement. Career low 1.018 WHIP last season.

Monday's winter meetings rumors and buzz
Could Dodgers move Justin Turner to new spot? While L.A. figures out how to reconstruct its roster in a hot stove season full of intriguing possibilities at third base, the veteran infielder's place on the diamond is a topic to watch.
ESPN Staff Writer
The Dodgers have discussed the possibility of switching positions with Justin Turner, which would obviously hinge on them adding a third baseman. Andrew Friedman said Turner is willing. First base would be the position he would move to, not second.
ESPN Staff Writer
Andrew Friedman said the Dodgers have zeroed in on roughly 12 players they're targeting at the moment. Almost all of them, perhaps with the exception of relievers, are elite. "I'd say it's a much more narrow group than it has been in some other years in my career," Friedman said.
---
What will Milwaukee's rotation look like? General manager David Stearns preached patience to the Brewers fans who are concerned about what the team's rotation will be come spring.
ESPN Staff Writer
Brewers fans concerned about the composition of their team's 2020 starting rotation may have to be patient. General manager David Stearns said today, "Frankly, at this point right now we don't think too much about that. We try to get through the progression of the off-season and as we get closer to spring training, we worry exactly what our starting rotation will look like, at that point. We've got a bunch of pitchers returning who have starting experience."
---
Theo talks Bryant grievance. In his first public comments about the pending grievance that could make Kris Bryant a free agent a season early, Theo Epstein expressed frustration with how long the process is taking.
ESPN Staff Writer
Theo Epstein, on waiting for a decision, regarding Kris Bryant's grievance hearing: "We're fairly confident in what the outcome is going to be but the timing is a bit frustrating. It would be nice to know. We're at the winter meetings and there hasn't been a ruling. I understand these things take time. It's not going to be more than a couple weeks away but it would be nice to have that final confirmation."
---
Cora discusses Mookie. Although Boston's star outfielder has spent the early part of the winter in trade rumors, manager Alex Cora said he has been in regular contact with Betts this offseason.
ESPN
Red Sox manager Alex Cora said he's been regularly talking to outfielder Mookie Betts, who becomes a free-agent after next season, this offseason amidst trade rumors. "I know how much he can impact the game of baseball. Look forward to managing him."
Betts has been the center of trade rumors for months after the Red Sox stated their public goal to get under the luxury tax penalty.
---
The Angels' other big need. While much of the focus on what the Halos will do this winter has focused around Gerrit Cole, finding a catcher is nearly as pressing a priority for them as filling out the rotation.
ESPN Staff Writer
Angels GM Billy Eppler said he has had active discussions for "6 or 7" catchers, both via trade and free agency. It's almost as big a priority as starting pitching at this point. Martin Maldonado and Willson Contreras seem to be a couple of guys who could make sense.
---
Does Strasburg's return mean Rendon is finished in D.C.? It has seemed that the Nationals were willing to bring back only one of their superstar free agents, but general manager Mike Rizzo painted a different picture in the news conference announcing Strasburg's record contract.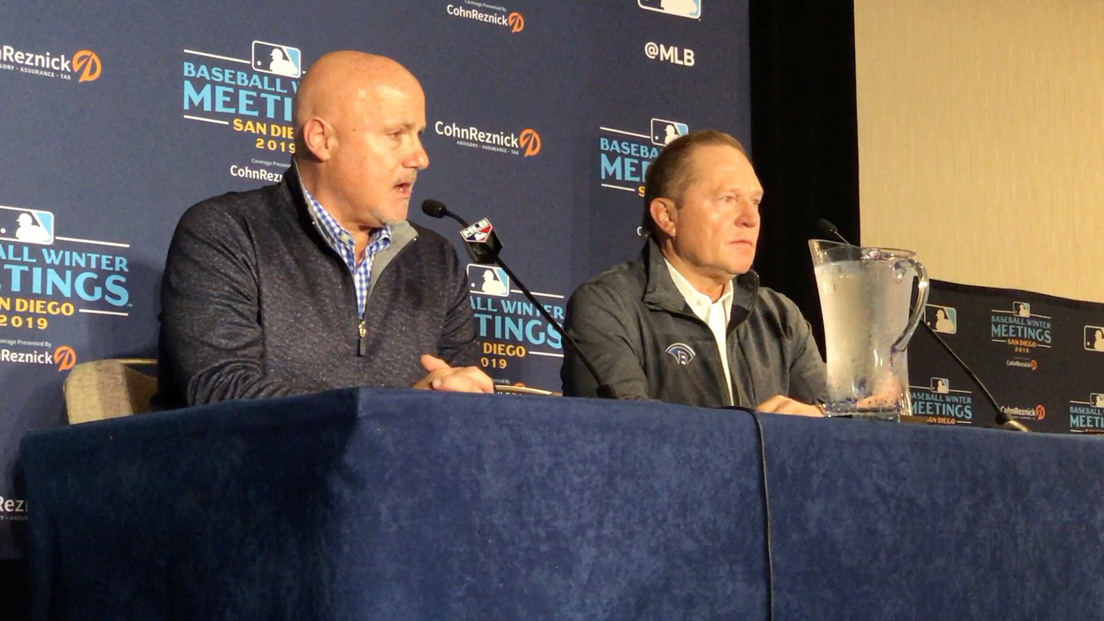 ESPN.com
Nationals GM Mike Rizzo, announcing the re-signing of World Series MVP Stephen Strasburg alongside the ace's agent, Scott Boras, said the deal doesn't preclude the team from also bringing back free-agent third baseman Anthony Rendon. Halfway through his answer on Rendon, though, he was reminded that Nats owner Mark Lerner recently said the team couldn't afford both players. That was apparently news to Rizzo.
ESPN Staff Writer
Scott Boras said the Nationals "built a trust based upon an early position" with Stephen Strasburg, referencing how they shut him down for the postseason after Tommy John surgery. Boras said it set a foundation for this deal "even though the immediate affect caused a great deal of angst."
---
How high will Cole bidding go? With Stephen Strasburg returning to the Nationals at a hefty price of $245 million, the pressure on the Angels to outbid the Yankees for Gerrit Cole only intensifies. The question is how high Los Angeles or New York — or any other suitor — is willing to go for the best pitcher on the market.
ESPN Staff Writer
Arte Moreno recently spent $325 million to acquire Angel Stadium and 133 acres of surrounding land from the City of Anaheim. The pursuit of Gerrit Cole might now cost something close to that, given the monster deal Stephen Strasburg just got. The thought has been that Moreno will not be outbid this winter, but every man has his limits.
---
Dodgers' winter meetings decision: Are the Dodgers a team to watch at the winter meetings? Absolutely. Will they definitely make a splash? Not so fast. Their talented roster means they could go big — or choose to stick with what they have.
ESPN Staff Writer
The Dodgers could do everything and nothing and I wouldn't be surprised by either outcome. What's interesting — and limiting — is that the only players who would help them, at any position, are basically the top 1 percent. They have the financial flexibility and organizational depth to do whatever they want, but they have in past years been more willing to assess needs in-season if they're not comfortable with the demands this time of year.

MLB winter meetings predictions
We asked our ESPN MLB experts to weigh in on what they think could happen in San Diego. Here's what they said.
Who will be the biggest name to sign during the winter meetings?
Anthony Rendon: Three votes (Alden Gonzalez, Jesse Rogers, Marly Rivera)
Rendon's market seems more limited than that of Gerrit Cole and Stephen Strasburg, and he doesn't seem like the type to want to wait around. — Gonzalez
The pitching market started fast but will slow down while top hitters start to come off the board. There's none bigger than Rendon. — Rogers
There is no other position player on the market in Rendon's league. Gerrit Cole and Stephen Strasburg will be the talk of the town, but with so many teams interested, they might drive each other's market up, and their signings could take a bit more time. — Rivera
Madison Bumgarner: Three votes (Bradford Doolittle, Sam Miller, David Schoenfield)
This winter's relatively brisk market (compared to those of the past two winters, at least) has swept up only one Scott Boras client, and Boras is famously patient, so it wouldn't shock me if his top clients (Cole, Rendon, Strasburg) stay unsigned for a few more weeks. — Miller
With Zack Wheeler off the market and Cole unavailable to all but a couple of teams, the tier for free-agent starters behind Cole and Stephen Strasburg is shrinking quickly, so pitching-hungry teams such as the White Sox, Twins and Braves need to pounce. — Doolittle
The Yankees have shouted their desire to sign Cole from the top of the Empire State Building, but don't expect Cole to the Yankees (or Angels or Dodgers) to happen this week. With Boras doing the negotiating, a contract of this magnitude is unlikely to happen so soon, as the Yankees just met with Cole. Although the market is moving more quickly this offseason, I don't expect any of the big three names (Cole, Stephen Strasburg, Anthony Rendon) to seal a deal in San Diego. Let's go with Bumgarner. — Schoenfield
Gerrit Cole: Two votes (Dan Mullen, Matt Marrone)
I know, I know. Scott Boras guys usually sign during the NCAA tournament, not before college football bowl season, but it seems like there is real traction here, especially given that the Yankees have ownership-level approval to offer Cole a record-setting deal. There are so few teams that could go there that maybe — just maybe — it'll speed things up. — Mullen
The Yankees aren't going to be beaten on this one. Except maybe by the Angels. Expect Cole's suitors to pounce. — Marrone
---
What will be the biggest trade to go down in San Diego?
Kris Bryant: Two votes (Dan Mullen, Jesse Rogers)
Here's a prediction: The Cubs will trade Bryant to the Braves for Max Fried and top prospects. — Rogers
If there's a blockbuster deal that rocks the winter meetings, the Cubs seem to be the most likely candidate to make it. My gut says Bryant is slightly more likely to move this week than Willson Contreras or Anthony Rizzo, but no deal involving Chicago would surprise me here. — Mullen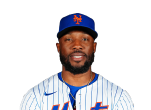 Starling Marte: Two votes (Sam Miller, Bradford Doolittle)
Starling Marte to somewhere. There's no great center-field option on the free-agent market, and that's one of the positions on the field that a team can't fake. — Miller
Given our diminished expectations for winter meetings trades, Marte is actually a pretty big name to move and one of the few impact players who seems readily available on the trade market, at least among those who wouldn't require an acquiring team to empty the prospect vault. — Doolittle
Anthony Rizzo: One vote (Alden Gonzalez)
He's relatively affordable for two more seasons, heads elsewhere, and the Cubs get a bounty of prospects in return. — Gonzalez
Francisco Lindor: One vote (David Schoenfield)
It would seem that Kris Bryant's trade value is somewhat tied to where Rendon and Josh Donaldson end up. If, say, the Nationals or Rangers lose on both of those third basemen, their interest in Bryant would increase. That means a Bryant trade might have to wait. I'm still skeptical on whether Mookie Betts will be dealt at all. Of the big three trade candidates, Francisco Lindor is my pick as most likely to get traded this week. — Schoenfield
David Price: One vote (Matt Marrone)
Cole — and likely Stephen Strasburg — will soon shatter Price's record free-agent deal for a pitcher. That is a testament to Cole, but it also shows that the market is hungry for pitching. Boston will find a way to unload a huge salary — if not Price's, then maybe Nathan Eovaldi's — and keep Mookie Betts for at least one more year. — Marrone
Matthew Boyd: One vote (Marly Rivera)
Boyd was one of the pitchers the Yankees tried to acquire last year, but the asking price was deemed too high. With the Tigers mired in a rebuild, Al Avila will need to find a market for the talented but inconsistent left-hander. — Rivera
---
Which team is most likely to be the talk of the winter meetings?
New York Yankees: Four votes (Dan Mullen, Jesse Rogers, Matt Marrone, Marly Rivera)
If the Yankees leave San Diego with Gerrit Cole in pinstripes — or spend the next three days having everyone buzz about the possibility of it — there really isn't anything anyone else can do that would have us talking more than that. — Mullen
Everyone knows the Yankees need starting pitching. Before it's over, they'll be linked to many available names. — Rogers
Is the Death Star fully operational? Whether or not the Yankees sign Cole this week, there'll be plenty of buzz around the Bombers and baseball's biggest free agent, not to mention the various other questions in the Bronx after the team's second ALCS loss to the Astros in three years. — Marrone
Just how high will the Yankees be willing to go to outbid the Angels for Gerrit Cole? — Rivera

Atlanta Braves: Two votes (Sam Miller, David Schoenfield)
The Braves have already been active on midtier moves, but if they're really pushing to join the superteam tier, they make sense as a destination for almost any headline name out there. — Miller
The Braves have a lot of potential to take this honor if they're willing to up the payroll a little. They could be in on signing Donaldson or trading for Bryant. Maybe they still want to add a veteran starter to the rotation even after signing Cole Hamels. Heck, Dansby Swanson isn't enough to block a potential Lindor trade (in fact, Swanson could be part of the deal). The Braves have drawn a hard line on their payroll under Liberty Media, but they need one more big star, and they have the financial and minor league resources to do it. — Schoenfield
Los Angeles Dodgers: One vote (Alden Gonzalez)
The Dodgers appear to be in on all the big names, on the trade market and in free agency, and now might finally be the time for Andrew Friedman to make a big splash. — Gonzalez
Los Angeles Angels: One vote (Bradford Doolittle)
With L.A.'s other team in spend mode and their need for starting pitching so acute, the Angels have the kind of pent-up desperation needed to push things in the market, perhaps more than any other club. — Doolittle
---
What is one under-the-radar team to watch in San Diego?
Texas Rangers: Two votes (Alden Gonzalez, Dan Mullen)
They're heading into a new ballpark, have unveiled new uniforms and need a new star to market around. — Gonzalez
The Rangers want to do something big as they get ready to move into their new ballpark. The question is if they find a free-agent or big trade fit that takes them from a team to watch to one actually making moves. — Mullen
Cincinnati Reds: Two votes (Jesse Rogers, Marly Rivera)
Perhaps it won't be so under the radar, considering they already inked Mike Moustakas to a deal, but the aggressive nature of the Reds — who see an opening in the NL Central — might come as a surprise to many. — Rogers
The Reds indeed sense an opportunity to contend in the NL Central and have already made some significant offseason moves. — Rivera
San Diego Padres: Two votes (David Schoenfield, Matt Marrone)
A.J. Preller has already made two interesting trades for the Padres, bringing in Tommy Pham, Zach Davies and Trent Grisham, but this roster is hardly a finished product that can contend with the Dodgers or Braves for NL supremacy. The rotation still could use a veteran leader with more upside than Davies, and an upgrade over Manuel Margot in center field is a possibility. How about signing Hyun-Jin Ryu or Bumgarner and trading for Starling Marte? — Schoenfield
The home team is already off and running and won't stop this week. — Marrone
Milwaukee Brewers: One vote (Bradford Doolittle)
Milwaukee has shed talent like a molting snake since the World Series ended, but with just two more years of Christian Yelich ensured, it's hard to believe that the departures have been a harbinger of a soft rebuild. — Doolittle
Arizona Diamondbacks: One vote (Sam Miller)
The Diamondbacks are probably a big bat away and seem to have already successfully, admirably completed their flash rebuild, so it's a little surprising not to hear them more frequently speculated about (speaking of "Starling Marte to somewhere," now that I think of it.) — Miller
---
What's the one thing everyone will be talking about on the plane home?
The winter meetings are back! They have been exceedingly dull the past two years, but this time, the big stars will sign and major trades will be made, and baseball observers everywhere will be shocked multiple times over, just like the old days. I'm going to will this into existence. — Gonzalez
Gerrit Cole. Whether or not Cole signs this week, his name will be prevalent throughout our stay in San Diego, just as it is now, and if he hasn't committed to a new team by Thursday, our collective appetite for news about him will grow ever more ravenous. — Doolittle
How long will it be before Cole, Strasburg and Rendon sign? — Schoenfield
Teams overpaying for starting pitching and the exorbitant numbers being discussed regarding Gerrit Cole and Stephen Strasburg. — Rivera
I'll go a little outside the box here and say the Astros. If Cole signs, what he means to INSERT TEAM HERE will certainly dominate. But the sign-stealing scandal remains the biggest story in baseball. How — and when — will it be resolved? — Marrone